French Film Festival Presents The Fairy
---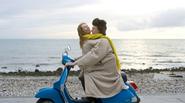 The next film in the Tournées Festival is The Fairy on Sunday, Feb. 9, at 4 p.m., in Bradford Auditorium in the Kirner-Johnson Building. The Tournées film series is presented by the Department of French in collaboration with the Kirkland Art Center. Film showings are free and open to everyone; suggested donations of $3. to the Kirkland Art Center are welcome.
The Tournées Festival is a program of FACE (French American Cultural Exchange), in partnership with the Cultural Services of the French Embassy, which aims to bring contemporary French cinema to American college and university campuses. The Kirkland Art Center is a non-profit, community arts organization on the village green in Clinton.
The Fairy, a wonderful homage to the physical comedy and slapstick of earlier movie eras, kicks off when Dom, a mild-mannered hotel clerk in Le Havre, is visited by Fiona, a redheaded woman who claims to be a fairy. She fulfills two of the night porter's wishes: a scooter and a perpetual supply of gasoline. But does Fiona really have supernatural powers, or is this spritely lady certifiably insane? As Dom tries to come up with his final wish, The Fairy unfolds as one ingenious sight gag after another, becoming a wild, hilarious, one-of-a-kind experience.
The Tournées Festival is funded by an annual grant awarded to American colleges and universities to support the screening of contemporary French cinema. Grants are awarded in hopes that schools will begin their own self-sustaining French film festivals. FACE is a non-profit organization dedicated to nurturing French-American relations through innovative international projects in the arts, education, and cultural exchange.