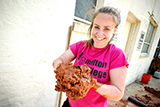 Although processing clay may not sound like the most amusing way to spend the summer, Lesley Klose '15, an art major with a focus on sculpture, is enjoying her time at the Red Dirt Studio in Mt. Rainier, Maryland, nonetheless. Her summer project is made possible through the support of the Kevin W. Kennedy '70 Internship Fund for the Arts.
Klose found this internship through her advisor Associate Professor of Art Rebecca Murtaugh, who put Klose in contact with Margaret Boozer, Murtaugh's former professor from the Corcoran College of Art and Design. Klose is Boozer's personal intern, assisting her on projects when need be, but also helps the other resident artists who rent smaller spaces in Boozer's studio.
Klose does not spend most of her time in the studio, however. Rather, she routinely goes to local construction sites and farms in order to collect clay for processing. Klose described the manually intensive process: "I need to break up large chunks of clay so that it dries fast in the sun, pulverize it into powder using a steel roller under my feet, mix in water using an electric mixer, run the slip through a sieve, pour the refined slip onto plaster drying boards, and store the clay for future use."
Boozer is a locally-conscious artist; the clay Klose is currently processing will be used to make cheese plates that are sold at a local vendor. In addition, some of her previous clay was used to make salad plates for an Eco City Farms fundraiser, "an effort to incorporate local produce and food education into the lives of city residents," as Klose described.
"My favorite part about art is the process of making, rather than the finished product and concept," Klose revealed. "This internship has helped me think critically about the art that I have made and has created ideas for future projects," she continued, "the process of making my own clay starting from what most people consider useless dirt really interests me and can be a starting point for countless works." In fact, Klose plans to use some of the clay she has gathered as material in her upcoming thesis.
Working closely with professional artists, Klose has observed how they use their interests to guide their artistic direction, and has discovered the important role philosophy plays in creating art. Lorenzo DeAlmeida, one of the resident artists, leads a weekly philosophy group; Klose explained that, "philosophy is a huge part of how people make, think, and look at art, so I feel that this has helped me think about my own place in the art world."
Although she has not yet decided, Klose is toying with the idea of becoming an art teacher after graduation. She acknowledged that her own interest in art was cultivated by her dad who was an architect and woodworker; "I think it would be really rewarding to teach art to young kids," she remarked, "you don't have to be good at art to appreciate the process, and I think it is really important for kids to be given that opportunity."
Lesley Klose is a graduate of St. Stephen's and St. Agnes School, in Alexandria, Va.