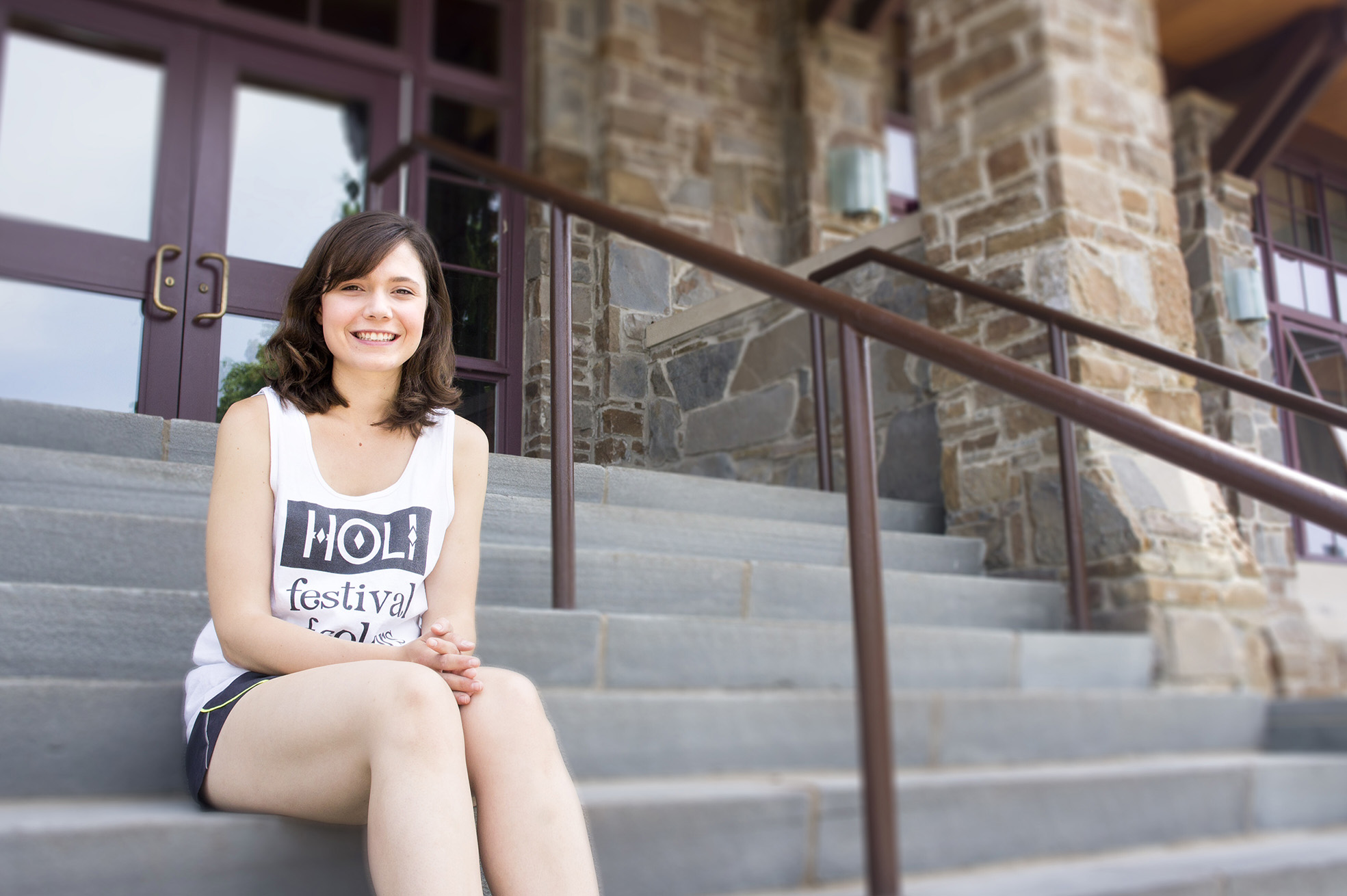 The corn from Ohio, the blueberries from Maine, and the strawberries from California that all ended up at your summer barbeque traveled quite a distance before arriving on your plate. "Farm to Fork," a term used by the college's food service provider, Bon Appétit, entails buying locally grown products when possible in order to reduce carbon emissions caused by transporting food long distances, as well as to stimulate the local economy.
Nicole LaBarge '15, an environmental studies major with a geoscience focus, is working on a Levitt Project, "Analyzing the Sustainability of Bon Appétit at Hamilton College Using Life Cycle Assessment," under the supervision of Associate Professor of German and Russian Languages and Literatures Franklin Sciacca.
LaBarge intends to research and promote the environmental, social, and economic benefits of consuming locally sourced food.
Although she originally intended to analyze an entire meal, the massive amount of data required to compute each ingredient would have taken months. Instead, LaBarge has chosen to assess just one product: romaine lettuce. She is working closely with Bon Appétit to assess the product's carbon footprint and has also started contacting providers to gather data that she can analyze with the help of a Life Cycle Assessment (LCA) program.
The LCA calculates the emissions produced throughout the entire growing and delivery process. The program takes into consideration factors such as the kind of tractors used and for how long, the type of pesticides, herbicides, supplements and fertilizers used, the quantity of those consumed and the type of transportation that carries food to the college.
Although she came to Hamilton for the Creative Writing Department, LaBarge discovered her fervent passion for food sustainability in Professor Bailey's "Earth Resources" course. Though there are not many classes about food's relationship with climate change, she has taken the few that are offered as well as hydrogeology and several other geoscience courses that focus on natural resources.
Last summer, LaBarge worked with Professor of Geoscience Dave Bailey on interdisciplinary research connected with the Levitt Center. Their study examined the impacts that lead exposure has on agriculture and the local food web. Sally Borden '15 was also part of the research team; her role focused on the social side of the issue, examining government regulations and mandates associated with agriculture.
Through her work this summer, Labarge also hopes to promote Bon Appétit as a food service provider because of their consistent dedication to sustainability. She revealed that the college food industry has enormous purchasing power within the US; as such, it is the responsibility of these providers to adopt practices and awareness campaigns similar to those of Bon Appétit.
LaBarge is enjoying the independence of the Levitt Summer Research program and is relishing conducting a project tailored to her specific interests. In such an important and emerging field, she has many opportunities for future studies. Although she has not yet decided how, LaBarge knows that she would like to continue her work with sustainability.
LaBarge graduated from Mohawk Central High School (N.Y.)