Fruits of Summer to Be Consumed on Labor Day
---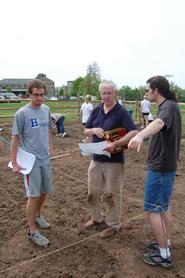 Highlighting Hamilton's commitment to eating locally, Bon Appetit, the College's food service provider, will prepare a variety of dishes that feature vegetables grown on campus and by local organic farmers on Labor Day, Monday, Sept. 7. The organizations involved include Bon Appetit, the Hamilton College Community Farm and
the Food For Thought seminar and its 1812 Garden.
In support of the
Slow Food USA's Time for Lunch Campaign,
the coalition of Hamilton College groups will also sponsor a petition-signing campaign in the campus dining halls. The Time for Lunch campaign is urging citizens to contact their legislators and tell them to invest in the health of children by allocating $1 more per day per child for public school lunches.
The U.S. Department of Agriculture currently reimburses schools $2.57 for each meal served to a student qualified for free lunches – most of this covers labor, equipment and overhead costs – but less than $1 goes toward actual ingredients. The campaign also seeks to protect against foods that put children at risk by establishing strong standards for all food sold at school, including food from vending machines and school fast food. The campaign is pressuring the government to provide mandatory funding to teach children healthy eating habits through innovative farm-to-school programs and school gardens.
During lunch there will also be a display of heirloom crops grown in The 1812 Garden, a reconstruction of an early-19th century kitchen garden on campus which serves as the "laboratory" project of the Food for Thought: The Science, Culture, and Politics of Food seminar. The garden offers historical and cultural perspectives on sustainability.