Fujimori '14 Named 40th GOLD Scholar
---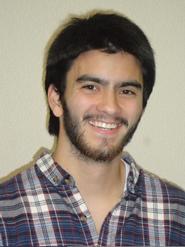 Name: Sean Kenji Fujimori
Hometown: Shrewsbury, Mass.
High School: Phillips Exeter Academy
Major(s): Philosophy and Neuroscience
Campus activities: Circulation assistant at Burke Library, Outdoor Club, Environmental Action Group, Spectator writer
FAVORITES
Last Movie Seen in Theaters: Harry Potter and the Deathly Hallows Part II
Favorite Movie: The Shawshank Redemption
Favorite Song: "Here For You" by Eyedea (as Oliver Hart)
Favorite place You've Lived on Campus: Eells
Last Book Read: The Dharma Bums by Jack Kerouac
Favorite Book: Moby Dick by Herman Melville
Hobbies/Interests: Philosophizing, Yoga, Hiking, Camping, Playing Sports, Reading, Travelling
Favorite Place on Campus: Kirkland Glen
Favorite Campus Dining Location: Commons
Fondest Hamilton Memory: Walking down to the stream behind the Kirkland Glen, standing in the water and skipping stones while conversing with a friend
Favorite Quote: "Reality is only a Rorschach inkblot, you know." – Alan Watts
Where did you grow up?
I was born in Malden, Mass., and lived in both Pennsylvania and Michigan before I moved back to Shrewsbury, Mass., when I was 4. My home is on a deadend with a cul-de-sac at the end. At the end of the street there is a forest with a path through it that leads to my elementary school. I loved spending time in the forest, at the school playground and at a nearby park, especially because I had 5 siblings to play with. We had a lot of fun around our neighborhood. I feel very fortunate to have grown up where I did because it instilled a great love and respect for the natural world around me.
Describe your family.
My huge wonderful family includes my mother, father, two sisters and three brothers. My dad works for a pharmaceutical company, and my mom is a math teacher. They are both very hard workers and instilled in me a strong sense of the importance of education through their words and examples. They have both had an immense influence on my values and perspective. My twin sister Jessica and I are tied for oldest, and my twin brothers Sam and Caleb are tied for second. My brother Gavin and my sister Katie, the baby of the family, round out the children. I get along amazingly well with my family considering that I like solitude sometimes, and there always seems to be someone around. Jessica and I fit together like yin and yang. She is outgoing and friendly with everyone, while I am more reserved around people I do not know well. I played sports while she wrote for the school newspaper. She is well organized, and I am always forgetting things. In spite of our superficial differences, however, we have very similar thought patterns and values. After all, we have spent more time with each other than anyone else in our lives, and I think that it shows.
What was high school like? Who inspired you?
I was fortunate to go to a great high school, Phillips Exeter Academy, from sophomore year onward. Going to Exeter was a true blessing because it exposed me to brilliant people and unique perspectives from different cultures all over the world. The learning environment is based on the Harkness method, which is fundamentally a dialogue between the students and teachers rather than a one-sided lecture, and classes sit around oval tables to encourage everyone to contribute to the discussion. I loved that philosophy of education. It made me far more confident in myself and trained my mind to be more critical and analytical of everything. I had many great teachers there, including my philosophy teacher Mr. Vorkink, who inspired me to be critical of everything, my history teacher Mr. Herney, who taught me to tease out the subtle threads of the past, and my lacrosse coach Coach Glennon, who showed me how to find the humor in every situation while retaining a strong intensity of purpose.
What Hamilton professors, coaches or advisors have inspired you?
I have been blessed with inspiring professors in nearly every class I have taken at Hamilton. One who stands out is Professor Werner, who I am currently taking History of Ancient Western Philosophy with. To me he exemplifies the proper spirit of philosophy, in the sense that he does not take anything too seriously, yet sincerely tries to understand the world and explain his thoughts to anyone who is willing to listen. Moreover, he is always friendly and willing to talk to students about whatever is on their mind. He embodies a wonderful kind of empathy, both intellectual and emotional. It is extremely inspiring to sit and talk with someone who has such an understanding perspective. Two other professors that I feel fortunate to have taken classes with are Professors Ambrose and Paquette. I took Christianity in America with Professor Ambrose and The Old South with both Professors Ambrose and Paquette. The two classes had a great synergy as they followed similar timelines throughout the semester, and both professors brought the subject matter to life for me with their passion and insight.
What are your plans after Hamilton?
After Hamilton I may apply for law school, but if a good opportunity presents itself then I would be happy to take it up. I would love to travel for a little while if I get the chance — both the Western U.S. and Southeast Asia are at the top of my list. I can see myself enjoying the warmer weather after four years in Central New York, so if I do go to law school, I would probably end up in Southern California. I've lived in suburbs for most of my life, so I want to experience city life for at least a few years. I think I would love living in Minneapolis or St. Paul, but Los Angeles or San Francisco are also appealing. My plans are generally fluid so I may have a completely different goal by the time I graduate. Whatever I do, I'm sure there will be great people to meet and experiences to be had.