Gamble '13 and Pape '11 Ensure Farm Garden Future with Almanac
---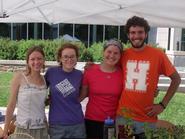 One of the summer's most labor-intensive student projects on the Hill is the maintenance of the Hamilton College Community Farm (HCCF) garden. Student workers are constantly brainstorming about ways to streamline the farming process, which begins in February with germination within the greenhouse and doesn't end until the final crops are harvested in the fall. The most recent advance for the community farm was made by former farm manager Sarah Gamble '13 and co-founder Andrew Pape '11, who developed a comprehensive farm almanac through which they hope to pass on their knowledge and experience to future farmers.
Gamble and Pape both worked at the garden as farm managers, alongside Christine Roback '12, during the summer of 2010. As could be expected, the interns learned a lot about farming through trial and error, but summer farm managers generally only serve for one year, and they were concerned that a lot of the knowledge they had gained in their experiences farming would be lost unless they developed a foolproof way of recording it—and a stack of documents outlining growing cycles, optimum soil conditions and other odd farming tips would not be enough. "Andrew (Pape) was very knowledgeable and had a lot of skill, so he could direct our work last summer," Gamble said, "but he would not always be there, and to save future interns the hassle of visiting myriad sources and sifting through our old notes and documents for simple answers and orders of operation, we wanted to collect it all in one place and provide a framework of knowledge that could be built upon."
In the fall semester, Gamble and Pape decided to pursue an independent study project with Professor of Biology David Gapp to develop a community farm garden almanac to preserve their valuable information. "As we sat down to write the proposal for the independent study at the beginning of the fall, it soon became clear that the project would have to cover a lot more than little suggestions,… [it] would have to be essentially a manual for how to run HCCF," Gamble said.
Now, the almanac is online and is organized and is nothing short of a goldmine of information on farm maintenance. Details on 32 vegetables are provided including ideal seed varieties, indoor starting and transplant dates, cultivation and harvesting techniques and suggestions for crop pricing at the farm stand. There are also sections on farm work, tool use, sales management, and an "ideas beyond farming" section that describes established volunteer farm practices as well as ideas for future HCCF projects. The almanac's appendix lists valuable contacts, pricing information, and local farms of interest and contains a garden layout aerial grid.
This year's summer farm interns are Steph Hudon '13, Jack Waddell '14, and Sarah Fellows '14, and already the almanac has been a huge asset for them. "The advice of the past farmers to guide us along is a useful tool in the whole garden-managing project," said Hudon. "We new managers who haven't yet learned the ropes can verse ourselves in the ways of the Hamilton College Community Farm. The bits of farm wisdom are nice compliments to all the hands-on learning of this experience."
In his letter of introduction for the almanac, Pape writes, "This almanac is really a compilation of memories, an organized journal of several years' conversations and shared labor with friends, mentors and fellow farmers. I hope, in my absence it will continue the conversation." HCCF is an organization that relies on the good will and knowledge of its members, and Pape and Gamble hope that, with this almanac, they have established a base for an ever-growing body of knowledge that can be constantly expanded in the coming years.
Located behind Woolcott Residence Hall, it is now in its fourth year of operation. The almanac can be viewed online at http://students.hamilton.edu/communityfarm/almanac