General Electric Company CEO to Give Commencement Address
---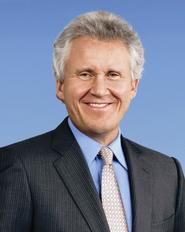 Jeffrey Immelt P'10, chairman and CEO of General Electric Company (GE), will deliver the Commencement address at Hamilton College on Sunday, May 23, at 10:30 a.m. in the Margaret Bundy Scott Field House.
Immelt will be awarded an honorary degree at the College's 198th Commencement ceremony, along with Peter Gelb, general manager of the Metropolitan Opera; Martin Hirsch professor of medicine at Harvard Medical School and a 1960 graduate of Hamilton College; and Christie Vilsack, executive director of the Iowa Initiative and a 1972 graduate of Kirkland College, Hamilton's former sister institution for women. Vilsack will offer the Baccalaureate sermon, on Saturday, May 22, at 3 p.m., in the Scott Field House.
Jeffrey Immelt

Jeffrey R. Immelt is the ninth chairman of GE, a post he has held since September 2001.
He has had several global leadership positions since joining GE in 1982, including roles in GE's plastics, appliance and medical businesses. In 1989 he became an officer of GE and joined the GE Capital Board in 1997. In 2000 Immelt was appointed president and chief executive officer.
Immelt has been named one of the "World's Best CEOs" three times by Barron's, and since he began serving as chief executive officer, GE has been named "America's Most Admired Company" in a poll conducted by
Fortune
magazine and one of "The World's Most Respected Companies" in polls by
Barron's
and the
Financial Times.
Immelt is also a member of The Business Council, and he is on the board of the New York Federal Reserve Bank.
He earned a bachelor's degree in applied mathematics from Dartmouth College in 1978 and a master's degree in business administration from Harvard University in 1982. He and his wife have one daughter.
Peter Gelb

Peter Gelb's career has followed a singular arc that began with his teenage years as an usher at the Metropolitan Opera and led to his appointment as general manager of the 124-year-old company in August 2006.
Gelb, a producer and former recording company executive, is committed to revitalizing the Met theatrically while preserving its musical values. After taking the helm at the Met, he immediately began to launch initiatives aimed at connecting opera with a wider audience. One of the most groundbreaking and successful is "Metropolitan Opera: Live in HD," a series of performances transmitted live in high definition to movie theaters across North America, Europe and Japan. Among other initiatives, Sirius Satellite Radio launched "Metropolitan Opera Radio," an around-the-clock channel broadcasting four live performances a week as well as historical performances from the Met's vast radio archive.
An award-winning producer of films, recordings, radio broadcasts, telecasts, concert events, operas and festivals, Gelb has collaborated with the world's leading artists.
Time
magazine named Gelb a 2008 honoree of the Time 100 list of the world's most influential people. In January 2010 he was named an Officier dans l'Ordre des Arts et des Lettres by the Cultural Minister of France.
Dr. Martin Hirsch '60
Dr. Martin Hirsch '60 is widely recognized as one of the top physicians/scientists working in the fields of virology and HIV/AIDS.
A 1960 Hamilton graduate, Hirsch received a medical degree from the Johns Hopkins University Medical School. After postdoctoral training at the University of Chicago, the U.S. Centers for Disease Control in Atlanta, and the National Institute for Medical Research in London, he did a clinical and research fellowship in Infectious Diseases at the Massachusetts General Hospital and Harvard Medical School from 1969-71. Hirsch joined the Harvard faculty in 1971, rising to the level of professor of medicine in 1988. He also holds an adjunct Professorship in Immunology and Infectious Diseases from the Harvard School of Public Health and directed HIV/AIDS activities at the Massachusetts General Hospital since their inception in 1981 until recent years.
Hirsch's group's most important contributions have been in HIV/AIDS therapy, where Hirsch is widely recognized as the "father of HIV combination therapy" because of his pioneering studies on drug combinations in vitro and in vivo.
Hirsch was named editor-in-chief of the
Journal of Infectious Diseases
in 2003 and is an infectious diseases editor of the online textbook,
UpToDate
. He has served on the editorial boards or as an associate editor of numerous other medical journals, including
The New England Journal of Medicine
and has authored more than 240 original papers and more than 160 chapters and review articles.
Christie Vilsack K'72
Christie Vilsack K'72 is executive director of the Iowa Initiative, a privately funded five-year research program that aims to reduce the high rate of unintended pregnancies among Iowa women ages 18-30, and if successful, serve as a model for the nation.
She is married to former Iowa Governor and current U.S. Secretary of Agriculture Tom Vilsack '72 whom she met at Hamilton and married in 1973. During her tenure as first lady of Iowa, Christie's work focused on advancing education and enriching communities. She is best known for her extensive work with literacy. Among other things, Christie raised funds to give a book to every kindergartener in Iowa each year and she visited more than 500 Iowa libraries to discuss the social and economic impact of public libraries on communities.
Christie Vilsack continues to be an advocate both in Iowa and nationally for family literacy, public and school libraries, and technology literacy. Through a partnership with the National Center for Family Literacy and the Verizon Foundation, she helped create and continues to provide grants for the Tech Savvy Awards. This award identifies programs across the country that bring parents and children together to learn to use technology effectively and safely.
Prior to her work at the Iowa Initiative, Christie taught language arts and journalism at both the middle school and college levels and worked as a reporter and columnist for the Mt. Pleasant News. She now divides her time between Washington, D.C. and Des Moines, Iowa.