Geological Society of America Bulletin Publishes Domack Research
---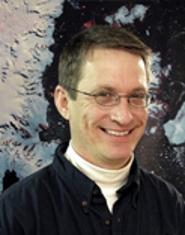 Eugene Domack, the J. W. Johnson Family Professor of Environmental Studies, is the lead author of a study published in the GSA Bulletin that documents the nature of unusual limestone (carbonate) sedimentary rocks that record an ancient glaciation during the snowball Earth event. Titled "An ice grounding-line wedge from the Ghaub glaciation (635 Ma) on the distal foreslope of the Otavi carbonate platform, Namibia, and its bearing on the snowball Earth hypothesis," the paper was published on Jan. 26.
Co-authored by Harvard University's Paul F. Hoffman, the research study was supported by a Guggenheim Fellowship (to Domack), the J.W. Johnson Family Chair in Environmental Sciences at Hamilton, a National Science Foundation grant (to Hoffman) and Harvard University. The authors recognized the contributions of Tim Fox '08 and Mary Beth Day '07, both of whom worked with Domack on this project in 2006.
The rocks of north central Namibia are assigned to a Period of the Geologic Time Scale referred to as the Cryogenian, named for the abundance of glacial strata across all continents in rocks that are about 635 million years old, explained Domack. A long standing debate has argued for either a non-glacial or a glacial origin for these rocks.
Domack and Hoffman have established with certainty that these are indeed glacial strata which are sandwiched between rocks of warm water (tropical) origin. They documented rapid changes in global climate in the Cryogenian. Since the rocks record conditions just prior to the evolution of multi-cellular life, the dramatic environmental changes thus inferred may have played a role in pacing biotic diversity following collapse of global ice sheets and ice cover.