George Baker '74 Discusses Careers in Washington with Students
---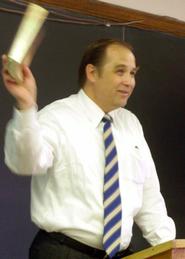 George Baker '74 returned to Hamilto on March 3 and spoke to students about starting their career search in Washington. The discussion, titled "So You Want to Work in Washington, D.C.: A User's Guide to Finding a Job in the Nation's Capital," introduced students to the nature of the Washington job market and provided a framework for beginning the search. Baker is a partner at Williams & Jensen PLLC in D.C., a litigation lobbying firm where he started working in 1980.
Washington, D.C. is a city that runs on a network. The media, government, law, science and military agencies and industries are all interdependent, working off each other to make advances in each field. While tourists are most interested in visiting the White House and the famous monuments, those who really know Washington can see beyond the attractions to the well-oiled, high-powered machine beneath the surface. The competitive nature of Washington's career field can be intimidating, but Baker navigated the basics of staring a career search with humor, sensitivity and a sharp sense of realism.
To those who are serious about working in Washington, Baker recommends first narrowing down the search to a particular area. Despite the city's reputation for its iconic monuments, the career possibilities are hardly constrained to government. Law, lobbying, journalism, the military, and the arts are just a few examples of the fields available to college graduates. Those who are uncertain of what they want will only be disappointed by a fruitless search that has no focus. In other words, Baker advises students to "stop thinking like the tourists," and instead gain a better understanding of what life is really like in Washington. To help in the decision process, Baker suggests making lists of one's strengths and passions, as well as seeking out advice from parents, friends and the Career Center.
Once students have found the specific area they wish to pursue, Baker stresses the importance of finding connections, be it through relatives, the Hamilton alumni network, or unpaid experience. The competitive nature of working in Washington makes it unlikely that one's first job will be well-paid or higher than entry-level. The key is to maintain a hardworking, realistic attitude and emphasize one's skills, building relationships and laying the foundation for success in the future. When looking for a job, graduates can often be directed from one potential employer to the next until finally the applicant is offered a position. Those who maintain faith in their potential will prove their worth and the right doors will open for them eventually.
However, Baker reassured his audience that despite the current economic climate, many organizations and firms in Washington are still in search of talented, intelligent and young employees. Government agencies such as the FBI and the CIA are still hiring recent graduates on a frequent basis, and firms such as lobbyists and law practices post up job openings on Capitol Hill bulletin boards. Baker asserts that no matter how few openings there seem to be, "somebody is getting those jobs."
While the process of finding a job in Washington can be frustrating and challenging, Baker maintains that once graduates find a position, even if it unpaid, the possibilities for growth are almost endless. An intern can ascend to higher, paid jobs as a consequence of hard work and good connections. As Baker himself puts it, "You're going to do very well, you just don't know it yet."