Jones '12 Gets Creative in Advertising
---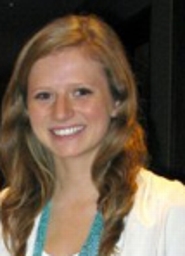 Good advertising can make all the difference in how well a brand performs, no matter what a company is selling. Effective advertisements, however, take innovation and skill, which is why so many brands trust advertising agencies to spread the word about different goods and services. Josephine Jones '12 is spending the summer in Boston with Arnold Worldwide, a global communications company renowned for its successful advertising campaigns.
She's working with the Brand Experience department, which focuses on events and promotions that reach consumers directly. Her internship is supported by the Anderson Fund through the Career Center.
Jones' responsibilities at Arnold Worldwide include conducting research, attending meetings and preparing documents and event planners. The Brand Experience department specializes in promotions such as specific events surrounding a brand, free giveaways and information stands. Jones is involved hands-on with these promotions. She assists with event research and sponsorship opportunities, attends and participates in department-wide brainstorming sessions, attends potential vendor meetings as well as status and creative review meetings, and helps build event planners to be used onsite. Jones' other tasks include conducting competitive research on other promotional agencies and preparing documents for internal review.
Arnold Worldwide is well-known for its originality, and Jones notes that the firm fosters an environment where employees love what they do and feel passionate about their work. For example, Arnold Worldwide employees refer to one another by first name regardless of position. They specialize in print, broadcast, and online advertising as well as creative concepting, brand promotions and business strategy. The firm has completed promotional material for companies such as Volvo, CVS, New Balance and Panasonic.
Jones, a psychology and communication double-major, first became interested in advertising after spending a semester abroad in Australia, where she was involved in marketing. During the spring 2011 semester, she took a class on advertising which reaffirmed her passion for this field. Jones explains that creativity has always been among her strengths, and she hopes that this particular skill will help advance her advertising career after college. Arnold Worldwide also offers Jones the opportunity to gain exposure to multiple accounts and a wide variety of clients, furthering her experience in advertising.
Jones is interested in traveling and exploring new places, and so her internship has allowed her to discover Boston, a process that she is enjoying. At Hamilton, she is a member of the women's lacrosse team.
Advertising can have a powerful effect on anybody who is exposed to it. However, advertising is so pervasive in modern culture that it takes substantial talent to make a considerable impact on the public. Jones hopes that her natural strengths, combined with her new experiences at Arnold Worldwide, will help give her an edge in this fast-paced, ever-developing industry.
Josephine Jones is a graduate of Mary Institute and Saint Louis Country Day School (MICDS) in St. Louis, Mo.