GNAR Club Hosts Campus DJ Competition
---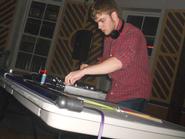 The GNAR Club hosted a late night DJ competition bringing together the top DJs on campus on Oct. 7. In an atmosphere enhanced by a green laser, strobe light, electric candles, glow sticks and purple fluorescence, more than 200 students raved in the Events Barn to the live mixes of five Hamilton DJs.
Organizer and GNAR Club member Chris Rider '12 said, "I threw the competition because I know there're a lot of unknown Hamilton DJs, and I wanted to provide an opportunity for them to play their music for a larger audience. We're a small campus, but we have some very talented musicians. I would really like to see an active musical forum. I figured a concert would be the best way to encourage DJs to continue to produce music."
David Borczuk '14 was the first DJ to perform and especially impressed the crowd with his mix of the "Circle of Life" from The Lion King. The following four DJs, Jacob Hard '14, Ben Li '13, Sarge Kinlin '15, and Kevin Kim '15 were also crowd-pleasers.
Rider, impressed by every one of the DJs who performed, said, "Stylistically, we saw a lot of DJs experimenting with eclectic mixtures of electronica music. I saw some very strong influences from dub-step, and a lot of mashups. Most of the DJs were mixing prerecorded beats taken from other artist's tracks," Rider said, "but a few dared to make their own beats, and combine them with mashups. Honestly, I'd like to see more of that. It's not easy to do."
At the end of the event, the crowd's screams determined their favorite DJ, and Sarge Kinlin '15 was named champion. Kinlin '15 described his music as "Live mixes of house and electronica generally, and I enjoy working with dubstep and reggae. Really, I just mess around with everything!"
The DJ competition was Kinlin's first show though he has been DJing for about seven to eight months and performed at graduation parties and other small gigs in Charlotte before he came to Hamilton. As first prize winner Kinlin was awarded a "Cool Little Toy," which is essentially an effects sampler pad with a touch screen.
Kevin Kim '15 came in second place even though it was only his first time ever performing in front of an audience. Before the event, Kinlin '15 helped Kim '15 to get ready. "I owe a lot to Sarge," said Kim. The DJs hope to continue to do a lot of collaboration work together in the future. "We're a great team," said Kim. Kim has considered starting a new club concentrated on student DJs. Kim's prize was a synthesizer plug in by Native Instruments.

The GNAR Club considered the event a great success and their hope is that the competition will encourage organizations to hire the DJs to play at different parties. As Rider said, "I want to see these guys play more often, and for a larger and larger audience."

"We have so much talent at Hamilton. There's no reason any party should ever not have a DJ. It's such a good opportunity for the DJs to get exposure and the parties are better as a result," said GNAR member Dave Hyman '12.

Late Night at Hamilton is an activities fund provided by the college to encourage students to host non-alcoholic events as one of many alternatives to all-campus-parties on Friday nights. All organizations may apply for a Late Night slot and each event can get up to $750 worth of funding to throw their event.

The GNAR Club's vision is to share their love of fun with the world. They typically promote activities such as mountain biking, extreme toothbrushing, freestyle walking, backcountry skiing and snowboarding, sledding and general fun times. They also host the annual GNAR Film Fest every spring.