Gold Publishes A Companion to Roman Love Elegy
---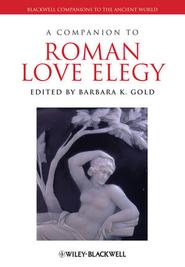 Barbara Gold, Edward North Professor of Classics, has published a book, A Companion to Roman Love Elegy (Wiley-Blackwell 2012), which she edited and for which she wrote the introduction. The book has 33 chapters written by contributors from six different countries.
According to the publisher, "A Companion to Roman Love Elegy is the first comprehensive work dedicated solely to the study of love elegy. The genre is explored through 33 original essays that offer new and innovative approaches to specific elegists and the discipline as a whole."

"Recent years have seen an explosion of interest in Roman elegy from scholars who have used a variety of critical approaches to open up new avenues of understanding," the publisher wrote.