GOLD Summit: The Power of the Hamilton Network
---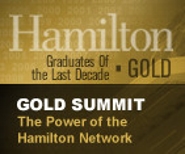 More than 25 percent of Hamilton alumni are Graduates Of the Last Decade. To prove true the theory "there's strength in numbers," Hamilton is inviting members of the GOLD Group back to campus April 3-5 for the inaugural GOLD Summit, a weekend of career, volunteer and social networking.
"There's a lot of uncertainty in the world today, and in uncertain times I think people draw strength from major life experiences," said Dave Steadman '03, director of young alumni giving. "For me, and many alumni whom I have had pleasure of talking to, Hamilton is paramount among those experiences. The GOLD Summit is an opportunity to solidify connections with other alumni and draw from those shared experiences to help ensure our collective success."
The GOLD Summit kicks off late Friday afternoon with the panel discussion Careers, Networking and Employment in the Current Economic Climate, moderated by Director of the Career Center Kino Ruth. On Saturday, young alumni can choose from among several concurrent sessions focused on careers and networking opportunities in such fields as film and television, sales and marketing, government and public policy, legal professions, health care, and media and communications.
In addition to career-related sessions, GOLD alumni can attend breakout discussions to learn how they can get involved in the life of the College as volunteers assisting with student recruitment, planning GOLD activities in their areas and helping to spread Hamilton's messages. And, of course, there will be plenty of time for socializing with a Saranac and Cheese reception, awards ceremony and a special GOLD trivia night competition at The Little Pub.
"The power of the Hamilton network comes alive when people actively participate, and the success of the weekend will be determined not only by the number of alumni who attend, but by how they choose to engage with the experience," Steadman added. "The weekend is designed for participants to learn and how they can help the Hamilton network and how they can put the network to work for them."
For more details and to register for the GOLD Summit, see the
full schedule
. You will also find a list of the more than 40 alumni already registered. You can also learn more on our
Facebook page
. As an incentive to come back to campus (and keep it green), the Alumni Office is offering $30 gas cards to GOLD alumni who carpool to Clinton for the weekend.
GOLD Summit activities supplement the annual
Volunteer Weekend
. All returning alumni will have opportunities to hear from Acting President and Dean of Faculty Joe Urgo and current students, as well as receive updates on Hamilton's finances, athletic programs and plans for the College's upcoming bicentennial. Special programming will celebrate 40 years of educating women on the Hill and the 20th anniversary of HAVOC, Hamilton's student-run volunteer program.