Goldberg Lectures About Contemporary Chinese Art
---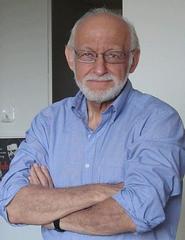 Associate Professor of Art History Stephen J. Goldberg presented a lecture titled "History, Counter-Memory, and the Search for a Modern Identity in Contemporary Chinese Art" on March 20 at Kennesaw State University in Kennesaw, Ga.
Goldberg examined the works of Chinese visual artists who took advantage of the new liberalization policies during the Era of Reform (1978-1996), initiated by Dong Xiaoping after the death of Chairman Mao Zedong.
According to Goldberg, this period marked the beginning of China's opening up to the rest of the world after decades of self-isolation. Upon gaining access to alternative Western modes of visual representation, the artists embarked on a redemptive project to redress through their paintings many of the social ills still plaguing Chinese society. Through a strategy of parodic inversion, they presented a "counter-memory" of recent historical events to that which was fostered by the propaganda paintings and posters of the Chinese Communist party-state during the Cultural Revolution (1966-1976).
Goldberg said the works show what happens when official representations of history come into conflict with repressed memory and serve to disclose the ways ideological and political hegemony are linked to the mechanism of politically enforced amnesia.