Goldberg Presents Invited Lecture
---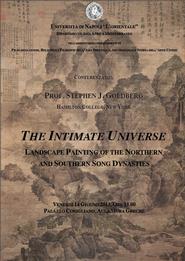 Stephen J. Goldberg, associate professor of art history, presented a lecture titled "The Intimate Universe: Landscape Paintings of the Northern and Southern Song Dynasties" on June 14 at Italy's Universita Degli Studi Di Napoli "L'Orientale," Dipartimento Asia Africa Mediterraneo.
The lecture was delivered in the Palazzo Corigliano, Aula Mura Greche ("Greek walls classroom"), so named because it is an underground space with the remains of ancient Greek walls.
Goldberg presented a comparative study of landscape painting as imago mundi ("world image") in China and the West, as well as a close reading and interpretation of landscape paintings at the court of the Northern and Southern Song Dynasties. He offered two interpretations – one cosmological and one political – with each reinforcing the other given the changing historical circumstances in which the paintings were produced.