Goldberg Publishes Book Chapter
---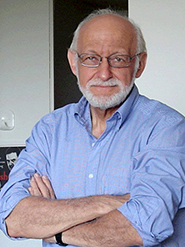 Associate Professor of Art History Stephen J. Goldberg published a chapter in the book Contemporary Chinese Art and Film: Theory Applied and Resisted (New Academia Publishing, 2013), edited by Jason C. Kuo of the University of Maryland.
According to Goldberg, the essay, "Oh Father, Where Art Thou? A Bakhtinian Reading of Luo Zhongli's Father," "is an exploration of the possible relevance of the theories on language and literature of Mikhail Bakhtin (1895–1975), working in the aftermath of the Russian Revolution, to an artist working in the aftermath of the Chinese Cultural Revolution." He said his examination "is motivated by the fact that each in their own ways was obliged to make accommodations with Marxist regimes."
In the essay, Goldberg examines Bakhtin's thought, with a specific focus on his dialogical theory of "double-voiced discourse" and "addressivity," through a reading of Father. "Double-voicing (here redefined as the internal bifurcation of visual modes of address) is shown to be an implicit strategy in the artist's attempt to offer a counter-memory of the events of the Cultural Revolution," Goldberg said.
Father, a painting completed in 1980 by Luo Zhongli (born 1948), an artist from Sichuan province, is one of the best-known Chinese works of art since the Cultural Revolution ended in 1976.