Government Class Holds Mock Election Debate
---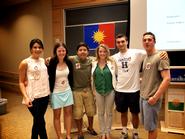 The students in Associate Professor of Government Sharon Rivera's introductory comparative politics course (Government 112) participated in a mock election debate in the fictitional country of West Europa on April 30 in the Kennedy Auditorium.
Over the course of the semester, students in the course wrote party platforms, devised campaign strategies, produced original campaign ads, managed media campaigns and prepared public statements in preparation for this event. The winner of the debate, as assessed by a panel of expert judges, was Keri Lloyd '15, leader of the Aurinthian Independence Movement. Other featured parties included the West Europa First Coalition, People's Party for Modern Freedom, People's Alliance Party, Eco-Moderate Party and Nationalist Party.
Rivera first ran this simulation in the spring semester of 2005 after developing it with the assistance of a Class of 1966 Career Development Award from the Dean of Faculty's Office. The simulation has several purposes: to help students appreciate the challenges facing European countries today, to give students a deeper understanding of party formation and coalition dynamics through experiential learning, to promote cooperative learning through focused small group work, and to improve students' oral communication and leadership skills.