Guttman Poem "Horse Latitudes" Part of N.J. Art Exhibit
---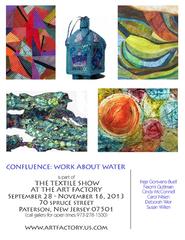 Professor of English and Creative Writing Naomi Guttman's poem "Horse Latitudes," from The Banquet of Donny and Ari: Scenes From the Opera is on display as part of the exhibit "Confluence: Work About Water" now showing at The Textile Art Show at The Art Gallery in Paterson, N.J.
The Textile Show has been designed to celebrate Paterson's rich textile heritage, highlight the role that the Art Factory is playing in that continuing history and showcase the talents of emerging and established textile-based artists - both domestically and internationally. This annual, textile art exhibition will open on Saturday, Sept. 28, from 1 p.m. to 8 p.m., in various locations within Art Factory properties at 60-70 Spruce Street and 468 Totowa Avenue in Paterson, N.J. The exhibition will be open daily by appointment until the closing reception on Saturday, Nov. 16.
The Art Factory is a spacious, inspiring collection of 19th century textile mill buildings in the heart of Paterson's Historic District. The Art Factory is restoring these historic textile spaces and converting them into galleries, studios, lounges, classrooms, workshops and event spaces.