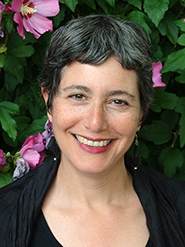 The Banquet of Donny & Ari: Scenes from the Opera, by Professor of English and Creative Writing Naomi Guttman, was named the winner of the CNY Book Award in Poetry for 2015. The announcement was made on Dec. 3 in Syracuse, N.Y., at the CNY Book Awards reception.
The novella-in-verse, a contemporary reinvention of the story of Dionysus and Ariadne, was published last spring by Brick books.
The CNY Book Awards are a program of the Syracuse YMCA's Downtown Writers Center, a community center for the literary arts.