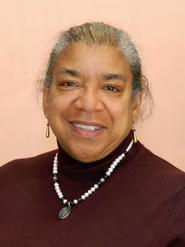 Shelley Haley, professor of classics and Africana studies and director of the Africana Studies Program, spent the week of March 24-28 at Hobart and William Smith Colleges (HWS) as a Melvyn Hill Visiting Scholar-in-Residence. She was nominated for the position by Dr. Leah Himmelhoch, chair of the HWS classics department. The program is in its inaugural year and is funded through the Melvyn Hill Visiting Professorship Endowment.
Haley presented two lectures, "Cleopatra: From African Queen to Shifting Icon" and "Against All Odds: Black American Women Classicists of the Nineteenth-Century."
She also spoke with Posse mentors. HWS is in its first year having Posse students on campus. Hamilton is in its 13th year of partnership with the Posse Foundation, a national non-profit that identifies public high school students with extraordinary academic and leadership potential who may be overlooked by traditional college selection processes.
In addition, Haley discussed her research project on racist translations of Latin texts with majors and faculty in the Classics Department and visited Art History of Ancient Egypt and Women's History classes.