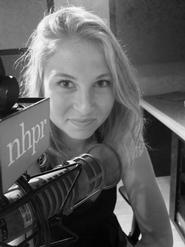 Hallie Loft '15, an English major, spent the summer interning in the newsroom at New Hampshire Public Radio (NHPR). Loft explained that she has always enjoyed writing, but has been seeking an outlet that would allow her to share her thoughts and ideas with a public audience. Furthermore, as a New Hampshire resident, she has been an avid listener of NHPR since a young age.
Loft stumbled upon the opportunity to work for NHPR and realized what a perfect match it would be given her interests in writing and local politics. As she explained, "Growing up, I was heavily involved with New Hampshire politics; despite [New Hampshire's] small size, campaigns can get pretty scrappy. The chance to revisit New Hampshire politics, as well as to have my writing published motivated me to work as an unpaid intern at the Concord headquarters of NHPR for the summer."
Loft noted how pleased she has been with the opportunity to report on the political landscape in New Hampshire, especially with the upcoming midterm elections this November. "Right now," Loft noted, "the most tension is being felt in the senate race between our incumbent Senator Shaheen, and a candidate from Massachusetts, Scott Brown."
As an intern in the newsroom, Loft was expected to work simultaneously on a number of projects and stories, which has provided her with excellent journalistic experience. As she explained, "My responsibilities more or less mirror those of the station's paid employers, meaning that I am expected to cover state news from the standpoint of a professional and experienced journalist. I spent my time traveling to different events and appearances, investigating possible leads, writing stories and spots for our website, and recording/editing sound for our program." Loft was even been given the chance to speak on the radio a few times this summer.
Loft's work with NHPR has led her to consider pursuing a career in broadcast journalism. Ideally, she says, she would love to eventually work at NPR's headquarters in Washington, D.C. Her internship this summer has given her insight into the world of journalism and is an excellent first step toward that goal.
She is a graduate of Hopkinton High School (N.H.).