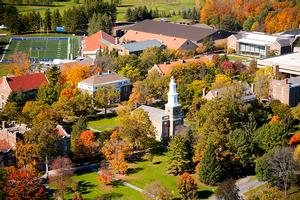 Hamilton Adopts a Need-Blind Policy for Admission
Decision Made to Ensure Student Access
(Updated March 23, 2010) At a time when parents are beginning to question whether they can afford a college education for their children, Hamilton has announced that it will make admission decisions without considering an applicant's ability to pay.
The college already meets the full demonstrated need of every student it accepts and will continue to do so.
The new policy at Hamilton, which is known as need-blind admission, is effective with the class currently being admitted for the fall of 2010. It fulfills a priority identified in the college's recently adopted Strategic Plan to ensure Hamilton remains attractive in the future to a traditional college-age population that will be more racially, socioeconomically and geographically diverse.
"We are taking this step now to make a bold statement about what we value as a college and to position Hamilton for the long term," said Chairman of the Board of Trustees A.G. Lafley, who recently retired as chairman and CEO of Procter & Gamble. "Protecting our legacy as a school of opportunity is our highest priority. We are fortunate to have the resources to meet this objective, because it's the right thing to do for Hamilton."
"It is partly because of the economic uncertainty faced by the families of students seeking a Hamilton education that we are doing this now," said President Joan Hinde Stewart, "but we have been striving to become need-blind for a number of years, and especially since we identified the changing demographics of future college students. I am moved and deeply grateful to the Hamilton Board for the generosity that is making this possible."
Stewart was referring to five $500,000 pledges from trustees at the conclusion of a day-long session in December. The college's Strategic Plan, adopted by the Board a year ago, had already identified need-blind admission as a "long-term goal," but the trustees concluded at the December 2009 meeting that Hamilton should accelerate its timetable and five members of the Board pledged the bridge funds to make that happen immediately. Several additional pledges have been received since that meeting, including another $500,000 commitment at the March Board meeting.
Stewart was the first in her family to attend college, an opportunity that was made possible because of the availability of financial aid. "My parents could not afford to send me to college," she said. "Financial aid made my education possible. That's why this decision is so deeply satisfying to me."
Hamilton has been moving incrementally for the past decade to make this step possible. Funding for student financial aid has increased nearly 80 percent from $14 million in 1999-2000 to about $25 million today (2009-2010). Similarly, the college has been preparing for the demographic shifts in the traditional college-age cohort by ensuring its continuing appeal to a student population that is racially, geographically and socioeconomically diverse. Most significantly, Hamilton announced in March 2007 that it was eliminating its $1 million merit aid program and reallocating those funds to need-based aid.
"Hamilton has been working toward this day for a long time, so this is especially gratifying," said Dean of Admission and Financial Aid Monica Inzer. "I'm very proud to be at Hamilton at this moment in time when we are able to align our admission practices with our mission as a school committed to access and opportunity."
She said the policy will apply to all applicants except international students and transfers. In recent years, Hamilton has been need-blind in its admission decisions for about 95 percent of the domestic applicants to each class.
Inzer said her staff has been experimenting with making its admission decisions need-blind for the past several years and estimates that the annual cost to the college, when the policy is fully implemented, will be at least an additional $2 million in financial aid, but that figure could go higher. She said the December trustee pledges will fund the new policy for the class entering this fall. A soon-to-be announced fund-raising initiative will help sustain the program into the future.
"I have every confidence that our alumni, parents and friends will support this program financially," said Lafley, who was a Hamilton student in the 1960s. "Many Hamilton graduates were able to attend the college only because of the generous financial aid they received as students. This is an important moment in the nearly 200-year history of our college, which has a long tradition of providing scholarship aid for those who would otherwise be unable to afford a Hamilton education."
Lafley said Hamilton is able to take this step now, despite the downturn in the economy, because the college is well managed. He cited the recent decision by Moody's to reaffirm the college's Aa2 rating with a stable outlook. In making its judgment, Moody's said "good fiscal management practices contribute to [Hamilton's] strong operating results."
Current need-blind colleges and universities that also meet the full demonstrated need of each accepted student include all of the colleges in the Ivy League, Duke, Georgetown and the University of Chicago, and liberal arts colleges such as Amherst, Bowdoin, Middlebury, Wesleyan, Williams, Grinnell, Haverford, Pomona, the University of Richmond, Swarthmore and now Hamilton, among others.
Stewart foreshadowed this decision in her semiannual letter to alumni, parents and employees in January. "We were founded nearly 200 years ago as a school of opportunity and transformation," she wrote. "The challenges of the current economy, so hard on families and on educational institutions, are reasons not to move away from that historic mission, but to reaffirm it."
Numerous alumni and parents responded to Stewart's letter, including Stanford University Librarian Michael Keller, a 1967 Hamilton graduate. Keller wrote: "Hamilton, long years ago, provided the son of an impecunious high school principal with a first-class education, a terrific environment in which to test life skills, and introductions to cultural matters lasting a lifetime. To expand that offering to many others based on personal capacity for growth and on achievement without regard to financial underpinnings is noble and ennobling."