Hamilton Alumni Band to Open for Jon Bon Jovi and The Kings of Suburbia
---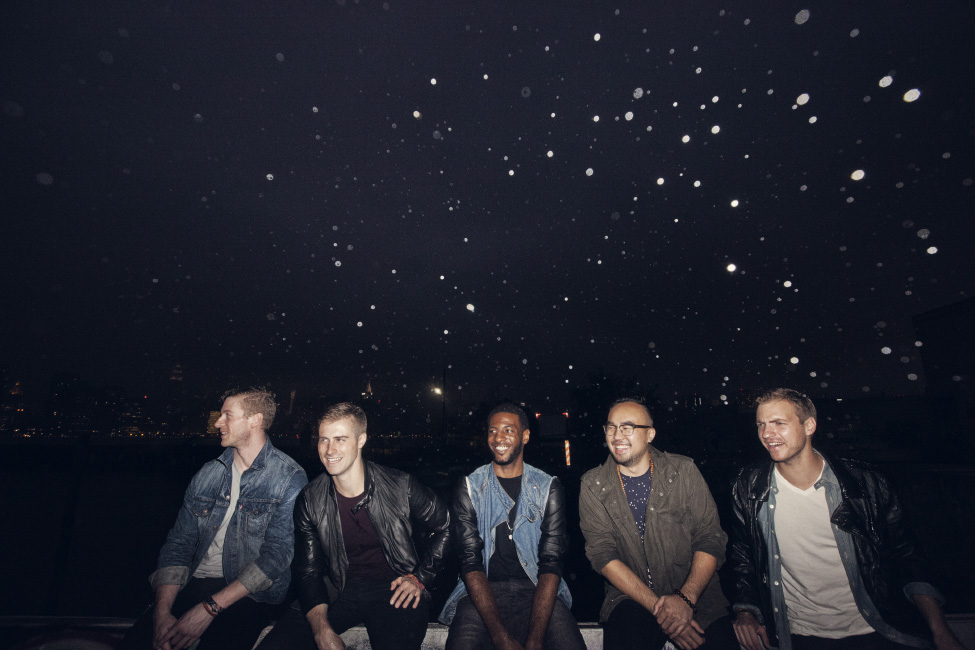 The DownBeat Keys, a Brooklyn-based hip-hop band featuring five Hamilton College alumni, will open for Jon Bon Jovi and The Kings of Suburbia on Wednesday, Dec. 5, at the Best Buy Theater in New York. The concert is a benefit for new scholarships and arts facilities at Hamilton.
"Sharing the stage with a rock star on the level of Jon Bon Jovi is the type of thing bands joke about because it seems like such an impossible dream," said The DownBeat Keys band member Andrew Root. "Yet here we are, on the same bill with one of the best-known musicians of our generation. Short of the Super Bowl halftime show, gigs just don't get much bigger than this one. We're extremely grateful to the Hamilton community for giving us this unprecedented opportunity and proud to represent our college's incredible arts program."
The DownBeat Keys has been a fixture on the college music circuit since forming in October 2008 when its members were all undergraduates at Hamilton. The band first began catching headlines with performances on the New York City nightclub scene. "There's something infectious about both the band's sound and its personality," wrote Harris Decker in ASCAP's Playback magazine. "It's the product of great musicians."
DBK has an impressive resume. The band has shared the stage with a range of artists from Talib Kweli to Outasight to Matt & Kim, and the band's third album, Summer On Saturn, features collaborations with veteran songwriter Jeff Franzel (The Temptations, Clay Aiken, Frank Sinatra).
Members of the band include:
Kadahj Bennett graduated in 2012 with a theatre major and sociology minor. At the age of 23, he is currently a theatre instructor at the Boston Arts Academy. Kadahj, a.k.a. Sim, is the lyricist/vocalist for The DownBeat Keys. He classifies his style as urban surrealism.
Ryan Calabrese, drummer for the DownBeat Keys, played trumpet in Hamilton's Jazz Ensemble and took numerous music courses. He was an economics major and a member of the men's baseball team. He is a member of the class of 2009.
Andrew Root, also a 2009 graduate, majored in music at Hamilton and was a member of the Jazz Ensemble and Chi Psi fraternity. After graduating, he spent two years as a professional bassist and songwriter in the Philadelphia R&B scene. Andrew currently resides in New York City and his sister, Molly Root, is a sophomore at Hamilton.
Baldwin Tang was an Asian studies major at Hamilton. A 2010 graduate, he is the keyboard player and mixer for The DownBeat Keys. In addition to writing music and performing with the band, he works for MTV creating motion graphics.
Jared Schneider, a 2011 Hamilton graduate, is a musician and songwriter living in Brooklyn. He studied philosophy as an undergraduate and was a member of the Jazz Ensemble and cross country team. Since leaving College Hill, he has supported his music habit with stints at The New York Times and NPR. He is originally from Bethesda, Md., and his brother, Jacob Schneider, is a junior at Hamilton.
Anthony Mathieu, who graduated from Hamilton in May with a concentration in government, also works occasionally with the band as a rapper and will join the group for a few songs on Dec. 5.
The concert, made possible through the philanthropy of Jon Bon Jovi, will feature an eclectic set list of music that will appeal to every generation. Hamilton alumni, parents and friends are welcome to bring their neighbors, friends and co-workers to the event. Any tickets that remain will be released to the general public next month.