Hamilton Alumni to Run Road Race In Memory of Matthew W. Houlihan '03
---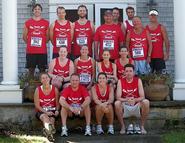 This August, six Hamilton alumni (Ian Lawson '03, Deirdre Lydon '02, Andrew Magoun '03, Clarke Morrison '03, Tracy Nichols '03, and Ben Thorne '03) will join eleven other runners as part of TEAM HOULI to run the Falmouth Road Race in Falmouth, MA. In addition to maintaining the friendships forged at Hamilton, the runners will raise money for the Matthew W. Houlihan Foundation.
Various incarnations of TEAM HOULI have been running the race for the past three years in memory of Matthew "Houli" Houlihan '03. The runners are not the only Hamilton alumni who will be gathering in Falmouth this August. Houli's parents, as they have for the previous two years, are hosting a cookout after the race for TEAM HOULI members, Hamilton alumni, and other friends and family of Houli's.
Houli, a member of the varsity crew team and the Chi Psi fraternity, died unexpectedly on October 3, 2000 in his sleep. Since then, Houli's friends and family have worked to preserve his memory, in part, through the Matthew W. Houlihan Foundation. To date the Foundation has awarded over $200,000 to students in need at both the Tabor Academy (Houli's high school) and Hamilton. All scholarships are awarded on a need basis.
More information about the Matthew W. Houlihan Foundation can be found here: http://houlihanfoundation.com/ and more information on TEAM HOULI's efforts can be found here: http://houlifund.blogspot.com/.