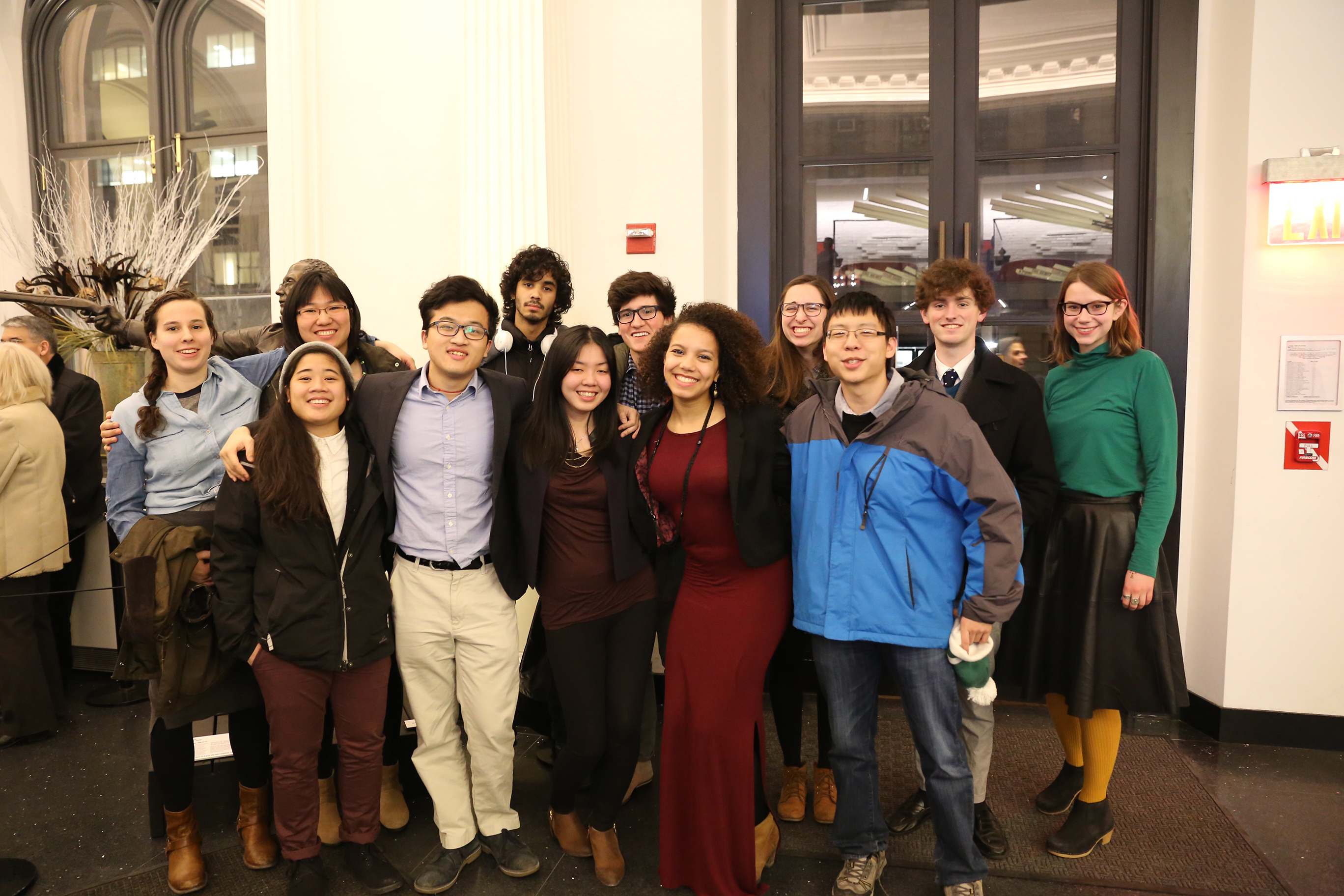 Fourteen Hamilton students in the New York City Program were among those fortunate to get tickets to the hottest show in New York on March 7. They went to see Lin-Manuel Miranda's "Hamilton," a hip-hop musical about the rise and fall of Alexander Hamilton, the architect of our nation's financial system, first Wall St. power broker, and of course, the College's namesake. The show will complete its run at Public Theater on May 3 and then move to Broadway's Richard Rodgers Theatre in July.
According to New York City program director Professor of English Patricia O'Neill, "The experience was transformative; dramatic, humorous and thoughtful throughout.'Hamilton' changed the way we think about our college's namesake." O'Neill noted that Hayden Kiessling '12 arranged for the tickets to "Hamilton" back in November when she was working at the William Morris Agency and the show had not yet opened.
Sterling Xie '16 offered the following review of the production:
"You would expect the unexpected from a musical about Alexander Hamilton that incorporates rap and hip-hop as central elements of the production. Lin-Manuel Miranda's script and performance as the title character certainly delivered on this promise, alternating between painful tension and knee-slapping hilarity, between defiant rap and tear-jerking love songs, to put a unique spin on the Founding Father's life.
"The play's goal was ostensibly to illuminate more about Hamilton's life, but it seemed to represent a flag-raising rally for all independent spirits and 'young, scrappy and hungry' fighters, a refrain that was repeated throughout the play. The idea of remembrance was prominent throughout the play—the phrase 'Who Lives, Who Dies, Who Tells Your Story' was plastered on the front of the program, and it was repeated throughout the final scene.
"Miranda himself has suggested that his Hamilton was based off of martyred rapper Tupac Shakur, a similarly iconoclastic innovator whose brilliance was responsible for both his rise and his demise. Much like how Tupac's legend has mushroomed because of what was taken away by his death, Miranda suggests that Hamilton, the 'right-hand man'" of George Washington in the play, would have a similarly Washingtonian legacy if not for tragic circumstances.
"In my view, however, the play's appeal came not from an intense focus on Hamilton, but rather the diversity of the cast that Miranda had built. The demographic diversity was reflected in the score—Phillipa Soo, who played Alexander's wife Eliza, delivered several beautiful solos that reflected the real-life counterpart's character strength, which moved several audience members to tears.
At the same time, Jonathan Groff's rendition of the hilariously foppish King (turned pop star) George was equally enjoyable. Even the historically demonized Aaron Burr was impossible to despise—it's fitting that Leslie Odom, Jr.'s character delivered a thought-provoking monologue directly after assassinating Hamilton in the infamous duel.
"The musical forced us to run the gamut of emotions, transcending the bland black-and-white print in history textbooks that had previously characterized most of my knowledge surrounding Alexander Hamilton. It's hard to tell new stories about a person with Hamilton's massive legacy, but Miranda's production delivered on this promise."