Hamilton Authors Publish in SAA Archaeological Record
---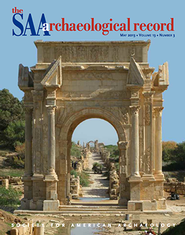 An article written by several members of the Hamilton community was published in the May issue of The SAA Archaeological Record, the magazine of the Society for American Archaeology.
"iTrowel: Mobile Devices as Transformative Technology in Archaeological Field Research" was the result of collaboration by Assistant Professor of Anthropology Nathan Goodale, Associate Professor of Geosciences David Bailey, Educational Technology Specialist in Information Technology Services Ted Fondak and Visiting Instructor of Anthropology Alissa Nauman.
The article explored the use of GIS applications and iPads in geoarchaeological survey and mapping. It stemmed from field work conducted during the summer of 2012 by the authors, along with students Catherine Prescott '12, Lyman Munschauer '13, Adrien Hilmy '13 and Maxwell Lopez '15.
Survey work was conducted in the Upper Columbia River system of the Interior Pacific Northwest and relates to Goodale and Nauman's archaeology field course Arch 281/282 as well as their Digital Humanities Initiative (DHi) project SEARCH.