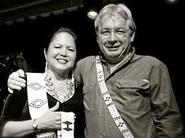 Two members of the Haudenosaunee Confederacy joined the Hamilton community on Dec. 1 to help celebrate Samuel Kirkland's birthday. A Community Lunch – sponsored by the Chaplaincy, Religious Studies Department, and the American Life & Thought Fund through the Dean of Faculty's Office – served as a reminder of the college's founder, and the heart of his educational mission, conceived as an outreach to indigenous peoples, particularly members of the Oneida Nation.
Joanne Shenandoah, a member of the Wolf Clan of the Oneidas and Grammy-award-winning musician, performed on her flute, made of 300-year-old wood, and spoke of her 7th generation grandfather, Chief Skenandoa, whose close friendship with Kirkland gave rise to the life-long relationship between Kirkland and the Oneidas from which, in 1793, emerged the Hamilton Oneida Academy, later chartered in 1812 as Hamilton College.
Doug George-Kanentiio, a member of the Mohawk Nation and vice president of the Hiawatha Institute for Indigenous Knowledge, spoke passionately about the educational desires of Skenandoa, for whom the college's Skenandoa residence hall is named. At his request, Skenandoa is buried alongside Kirkland.
Kathy Collett, college archivist, had some personal effects of Kirkland on display from the college archives, including a hand-written draft of his Plan for Education.
Plans are underway for a wider-ranging celebration of Kirkland's birthday next year on December 1 when his 275th birthday will be commemorated.