Hamilton Chinese Concentrators Teach in Local Elementary Schools
---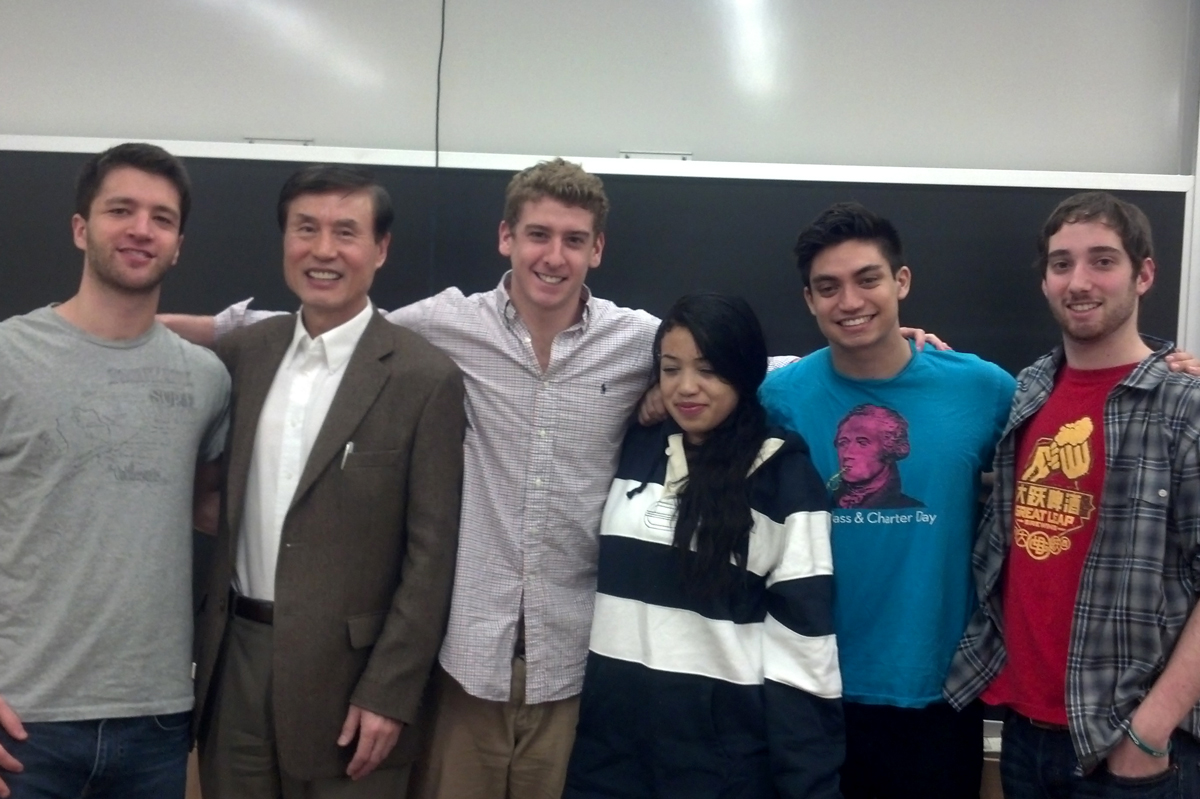 Recently, as part of the curriculum for the Chinese 495 Practicum of Chinese Language and Culture five Chinese concentrators ventured down to the bottom of the Hill to teach class at Clinton Elementary School. The program, which collaborates with the Oneida-Herkimer-Madison Board of Cooperative Educational Services (BOCES), is funded through a U.S. Department of Education Foreign Language Assistance Program (FLAP) grant with Professor of Chinese De Bao Xu.
Hamilton students Ryan Beres '13, Liam Frost '13, David Goldstein '13, Kimberly Rowley '13 and Mitchell Scher '14 participated in the event as voluntary teachers for the day. Having all spent six months in Beijing on Hamilton's Associated Colleges in China program, the students were eager to share their insights and perspectives on a number of diverse Chinese topics with the Clinton third graders.
Among the topics covered were China's population, family structure, regional cuisines and New Year's practices. The Clinton students were also taught basic Chinese vocabulary words such as hello, goodbye and thank you. After learning some Mandarin phrases, the third graders also had an opportunity to practice writing various characters using traditional Chinese calligraphy pens. At the end of the teaching session, the children were each given traditional Chinese New Year's red envelopes.
Noting the level of engagement and eager participation of the students he taught, Chinese major Ryan Beres commented, "I was shocked by the genuine interest shown by my students toward the subject matter. Simply telling the seven- and eight-year-old Clinton students that China's population was the world's biggest did not suffice. They wanted to know the names of China's most populated cities and how they compared to the populations of cities in the United States."
Beyond being active listeners and learners, the Clinton students also impressed the Hamilton student teachers with their prior knowledge on a number of Chinese cultural aspects. Liam Frost noted, "Having recently completed a unit on China, the Clinton students were eager to share their understanding of the subject. The students were particularly knowledgeable about Chinese New Year traditions, such as being with family and eating dumplings, and were overjoyed when we handed out red envelopes with Chinese money in them."
The same group of Hamilton students also taught at two schools in Utica this semester: John F. Hughes Elementary and Watson Williams Elementary, bringing the total of elementary school students taught to 733 in the spring of 2013.