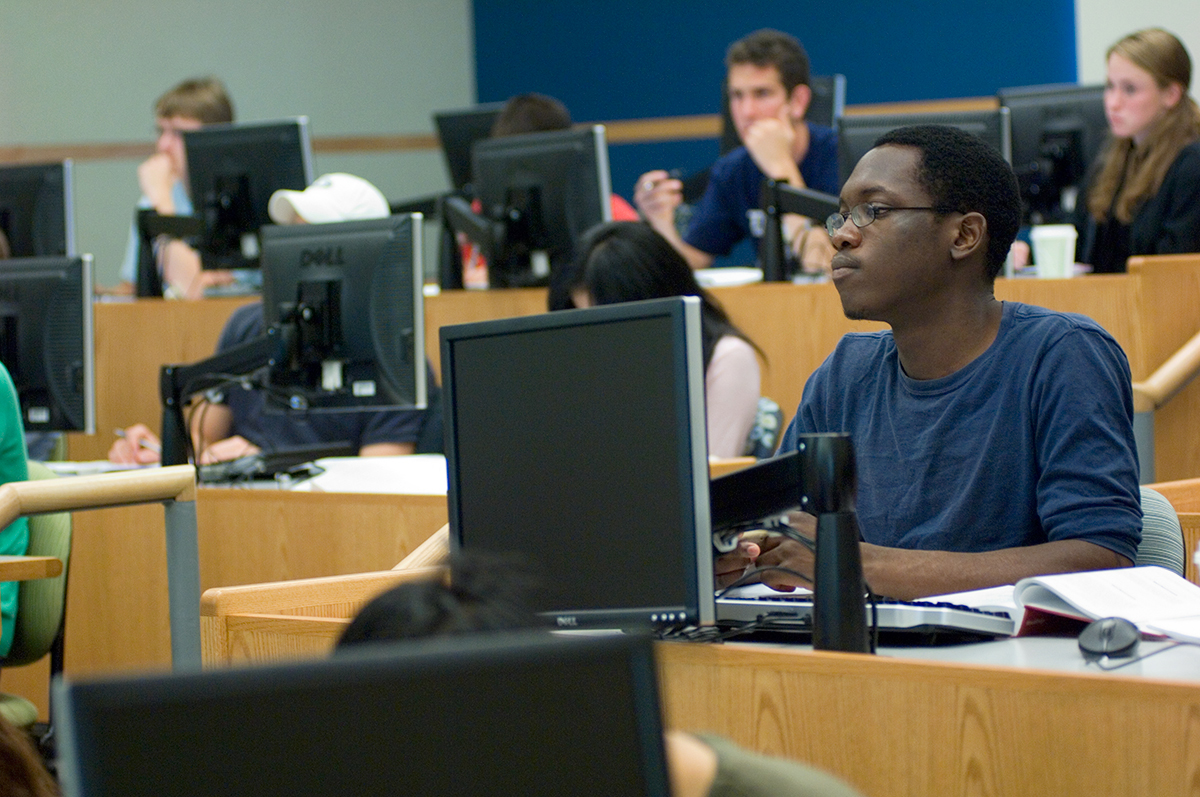 Hamilton College and Colgate University jointly announced today their partnership as new contributing members in the nonprofit, online learning platform edX. Founded by Harvard University and MIT, edX currently offers more than 150 courses in many areas of study, including the arts and humanities, public health, law, math and computer science. Its focus is to create access to the world's best education globally, improve on-campus education and conduct research to enhance teaching and learning.
Hamilton and Colgate are joining edX along with several major foundations and other global organizations. Among those are Osaka University (Japan), Universidad Autónoma de Madrid and Universidad Carlos III de Madrid (Spain), International Monetary Fund, Learning by Giving Foundation (Buffet family philanthropy), The Linux Foundation and The Smithsonian Institution.
With charter edX members Davidson and Wellesley Colleges, Hamilton and Colgate bring to four the number of liberal arts college edX members. As partners, Hamilton and Colgate will offer four online courses within the first year of their engagement with edX.
Pat Reynolds, Hamilton's vice president for academic affairs and dean of faculty, said, "We consider it essential that we help shape the national discussion about online learning and advocate the role of the liberal arts within this developing arena. At the same time, we will engage and share pedagogical innovations with other institutions similarly involved in delivering offerings via various MOOC platforms."
According to Colgate's Provost and Dean of Faculty Douglas Hicks, "We are enthusiastic about joining the first wave of edX contributing members. The opportunity to partner with Hamilton College was timely.
Hamilton Vice President for Libraries and Information Technology Dave Smallen reflected on other joint Colgate and Hamilton partnerships."We have a tradition of partnering with Colgate in the application of technology to our academic program. In the 1990s we jointly received a grant from the Andrew W. Mellon Foundation to focus on technology and language learning. This led to the implementation of videoconferencing on both campuses and a shared course in Italian taught via that technology. Through the years our libraries and IT organizations have continued to partner in support of teaching and learning. The edX partnership will further working relationships between our faculty and educational support staffs."
Reynolds and Smallen talk about the new partnership with Colgate and the new membership in edX.
In announcing its new members, edX said that, "The expansion comes in response to increasing demand from edX students for a broader array of courses, along with growing interest from academic and non-academic institutions to offer a diverse set of high quality courses to a global audience on edx.org and through the expanding network of edX universal access partners."
"Improving the quality of global education and student success remains at the core of the edX mission, and we are continuing to grow and expand as we build the next-generation of online learning," said Anant Agarwal, president of edX. "We are energized by the increasing interest from leaders in academia, non-profits, NGO's, countries and industry to join the edX community, with many also using our universal access technology. Through our new membership structure, we are opening up edx.org to a wider pool of quality course providers, while offering both our global learners and our open-source adopters additional diversity and richness in our course offerings."