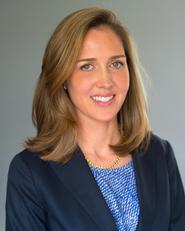 Anne Dinneen, director of investments since 2004 at the James Irvine Foundation in San Francisco, has been named chief investment officer at Hamilton College.
Dinneen, who worked previously at Barclays Global Investors, Thomas Weisel Partners and Banc of America Securities, will manage the college's $922 million endowment and planned giving assets. She will assume her position at Hamilton on May 15.
Henry Bedford, chair of Hamilton's Trustee Committee on Investments, said "Anne Dinneen is a highly qualified and sophisticated investment manager with a track record of making prudent decisions that maximize growth and diversification. We are fortunate to have attracted someone of her talent and skill to manage Hamilton's endowment as it approaches $1 billion in assets."
Dinneen earned a bachelor's degree in economics from Princeton University and received her MBA from The Wharton School at the University of Pennsylvania. She will work from a new office in a yet-to-be-determined location in New York City.
"It is a great privilege to lead an endowment that contributes so meaningfully to the college's faculty, staff and students in their many pursuits," Dinneen said. "Thanks to the generosity of the college's alumni, parents and friends, and the expertise of the trustees and investment staff, Hamilton's endowment has seen strong growth and is well positioned for the future. I feel very fortunate to have the opportunity to guide the endowment in its next phase."
Hamilton's new chief investment officer replaces Peter Tonetti, who has served as the college's CIO since 2008 and will retire in May. Karen Leach, vice president for administration and finance, said "The investment function has evolved as our endowment has grown larger and more complex. We are grateful to Peter Tonetti for his excellent stewardship of the college's endowment over the past seven years. The appointment of Anne Dinneen and the relocation of the office are the next logical steps to ensuring Hamilton's financial future."
According to a report released in January by The National Association of College and University Business Officers and the Commonfund Institute, Hamilton's endowment grew 24.11 percent for the fiscal year ending June 30, 2014, compared to national average endowment returns of 15.5 percent for the 832 colleges and universities that participated in the survey. Hamilton's endowment grew at annual rates of 14.87 and 8.63 percent over the last five and 10 fiscal years, respectively.
"Hamilton's endowment has consistently performed well," said Karen Leach, "and that has provided the college with the financial resources to invest in its physical plant and to increase scholarship aid to students. In 2010, the college became need-blind in admission, while continuing to meet the full demonstrated need of every student."