Arboretum Association to Hold Program on Sustainable Landscaping
---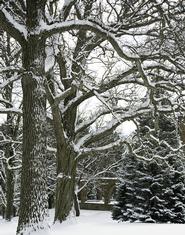 The Hamilton College Arboretum Association will present a workshop on sustainable landscaping on Saturday, March 16, from 10 a.m. to noon, in the Taylor Science Center's Kennedy Auditorium. This event is free, open to the public and sponsored by the College and its Arboretum Association. Pre-registration is requested by calling (315) 859-4657 or email arboretum@hamilton.edu.

Arboretum Director Terry Hawkridge will present on important sustainable landscape principles and practices. These include reduced pesticide and fertilizer usage; management of storm water; the usage of alternate products with the least impact on natural resources; landscapes that reduce heating and cooling costs; and ways to reduce the Urban Heat Island Effect. This presentation is eligible for International Society of Arboriculture two CEUs (continuing education credits).

The Arboretum Association is committed to protecting and sustaining the natural environment at Hamilton College. Its mission is to preserve the historic Hamilton College landscape, to build upon the diversity of the collection with sustainable species, and to reinforce the aesthetic character of the campus. It seeks to provide visitors with a broader understanding of the campus landscape and promote long-term stewardship of the environment.