Hamilton College Contributing $250,000 for New Ladder Truck
---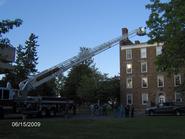 Village of Clinton Mayor Robert G. Goering and Hamilton College President Joan Hinde Stewart announced today that Hamilton will make a single contribution of $250,000 toward the purchase of new ladder truck for the Clinton Fire Department.

The $1 million truck, currently on order from Ferrara Fire Apparatus in Holden, La., replaces a 23-year-old piece of equipment that is becoming outdated and increasingly costly to maintain, according to Goering. The central feature of the new truck will be a 100-foot, mid-mounted ladder.

"A ladder truck is like an insurance policy," said Clinton Fire Chief Mark Young. "You hope you never have to use it, but when you need it, it's the most important piece of equipment that you have."

Goering said the contribution reflects strong town-gown relations between the college and the local community.

"Our community has a great relationship with Hamilton College," Goering said. "A contribution of this magnitude demonstrates the superb partnership that the College has with the village and the entire Fire District."

"Hamilton College and the Town of Kirkland are fortunate to have the protection of highly trained volunteer firefighters," added Stewart. "Proper equipment is essential to them, and Hamilton is pleased to make this contribution to the fire department and, by extension, to our neighbors in Clinton. It is a gift made with gratitude for the vitally important work done by these dedicated volunteers."

Delivery of the new equipment is expected in late spring or early summer. Young and several of the department's officers participated in a pre-construction conference in early December.