Hamilton College Democrats Members Engage in Summer Work
---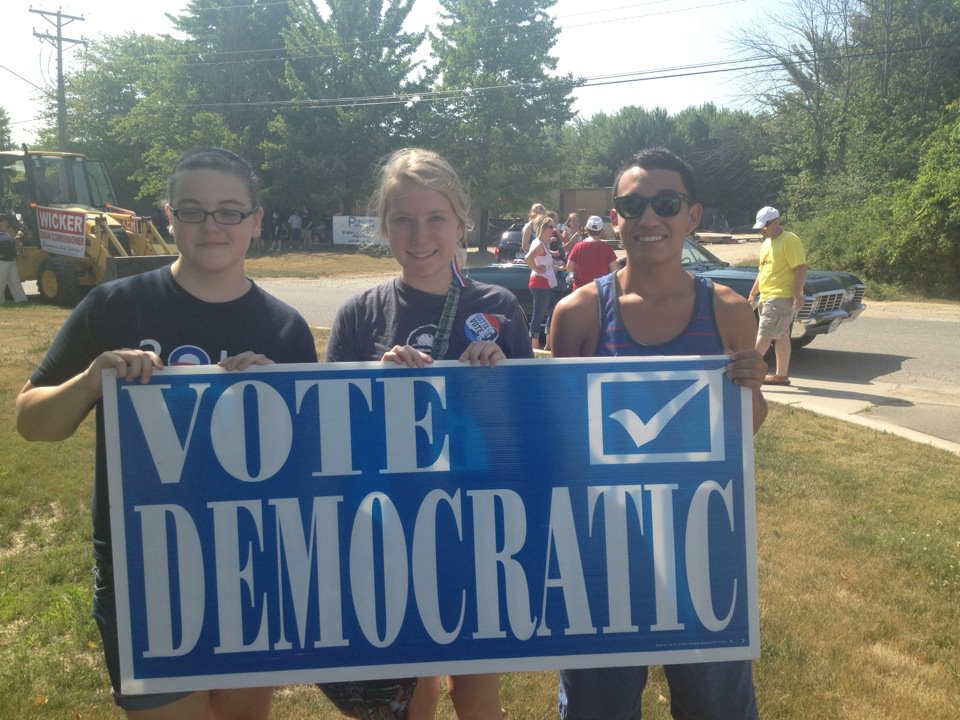 The Hamilton College Democrats is a campus student group that works throughout the school year to promote civic engagement in the Hamilton community as well as support the politics of the Democratic Party. With the 2012 elections rapidly approaching, the group's members are already planning events for the fall and hoping that their efforts will make an impact. In the meantime, several members have also taken the opportunity this summer to get involved in the political process through internships and volunteering. The following profiles three members who are acting this summer upon the group's mission to politically engage.
In Massachusetts, Jake London '14 is interning at the Boston headquarters for the Massachusetts State Democratic Party. Although the Bay State is a solid blue when it comes to the presidential election, the Democrats have all hands on deck for the high-profile senate race between Democrat challenger Elizabeth Warren and sitting Republican senator Scott Brown. Polls going back to last March have consistently put Warren and Brown in a virtual tie, within one or two percent of each other, so both sides are hoping to tip the race in their favor by increasing mobilization in the final months.
Working in a campaign environment has given London the opportunity to attend a number of events. In early June he was able to attend the state Democratic convention, the largest state convention in the U.S., and was there when Elizabeth Warren officially accepted her nomination for the senate race by the largest majority of delegates in state history. He's also had a chance to attend rallies and speeches over the summer featuring the likes of David Axelrod, top strategist for the Obama reelection campaign, and Massachusetts Governor Deval Patrick, who spoke after the President's healthcare reform bill was upheld by the Supreme Court.
In Michigan, Edie Wilson '14 has taken organizing into her own hands. While interning in Lansing for Organizing for America, working to register voters, and organize canvassing and phone banking events for the President's re-election, she has also put time into helping develop a "Young Women for Obama" group which is focusing on recruiting college aged women to sit down and discuss the issues important to them in the upcoming election. This program will expand to start discussion groups on a number of college campuses in the fall, including a chapter at Hamilton.
Among her highest priorities, Wilson is hoping these discussion groups will help dispel misconceptions regarding President Obama and the work he has done to support women, especially in the area of healthcare reform. These issues have affected Michigan directly as the State House has made moves to limit women's rights. Wilson has participated in rallies on the State Capitol's steps after two state representatives were silenced for voicing their opinions on controversial bills earlier this summer.
In New Jersey, Colin Hostetter '13 is taking a different approach to political participation. He is interning in the Newark office of U.S. Senator Robert Menendez. First elected in 2006, Menendez will be up for reelection this fall; however, sitting politicians must find a way to balance campaigning for another term while still fulfilling their obligations to their constituents.
This is where Hostetter comes in. He has been focused on constituent service in the state office and, among other tasks, has been working to help constituents navigate through bureaucratic red tape, to process requests for military academy recommendations, and also to supply information to constituents about various state programs. Hostetter has found it rewarding to help out his fellow New Jerseyans while also working to build name recognition and appreciation for a senator he admires.
Hostetter had the opportunity to meet and speak with Senator Menendez and chose to ask him about filibuster reform in the Senate, a topic closely related to the gridlock that exists in Washington today. As Hostetter points out, this gridlock and polarization also make the 2012 election especially important, because electing a unified government will help prevent much of the gridlock that exists in the current, divided Congress.
** News about the summer activities of student members of the Hamilton College Republicans will be posted next week.

London is a graduate of Masconomet Regional High School (Mass.)
Wilson is a graduate of Okemos High School (Mich.)
Hostetter is a graduate of Morristown High School (N.J.)