F.I.L.M. Series Presents Filmmaker Su Friedrich with Gut Renovation
---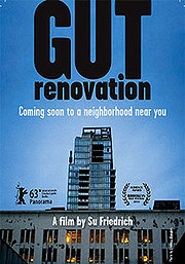 The Hamilton College F.I.L.M. (Forum on Image and Language in Motion) series will present filmmaker Su Friedrich with Gut Renovation (2012) on Sunday, April 7, at 2 p.m., in the Bradford Auditorium, KJ. The event includes the screening of the film followed by a discussion. It is free and open to the public.
Friedrich is one of the pivotal independent filmmakers of her generation. Her The Ties That Bind, Damned If You Don't, and Sink or Swim are canonical works in the histories of both avant-garde cinema and documentary filmmaking—as well as feminist breakthroughs. Friedrich's new film, Gut Renovation, is about the transformation of what for decades was her Williamsburg, Brooklyn, neighborhood, and the impacts of urban gentrification.
This event is also supported by the Kirkland Endowment.