Hamilton College F.I.L.M. Series Presents "Our Nixon"
---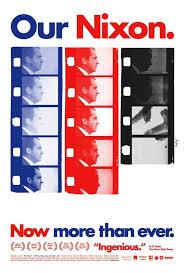 The Hamilton College F.I.L.M. (Forum on Image and Language in Motion) series will present, "Our Nixon" (2013) with director and producer Penny Lane on Sunday, Sept. 29, at 2 p.m. in the Bradford Auditorium, KJ. The event includes the screening of the film as well as a discussion with the director. It is free, open to the public and co-sponsored by the Kirkland Endowment.
During the Nixon presidency, three of his top White House aides – John Ehrlichman, H. R. Haldeman and Dwight Chapin – documented their experiences with Super-8 home-movie cameras from 1969 to 1973. Young, idealistic and dedicated, they couldn't have imagined that a few years later they'd be in prison. Inadvertently they provided viewers with a window into a turbulent moment in American history.
"Our Nixon" is an all-archival documentary presenting those home movies for the first time, along with other rare footage, creating an intimate and complex portrait of the Nixon presidency as never seen before.