Hamilton Faculty Art Show Opens at Wellin Museum of Art June 6
---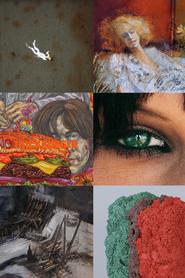 Faculty Art Show 2013, an exhibition highlighting artwork from the art faculty at Hamilton College, opens at the Ruth and Elmer Wellin Museum of Art on Thursday, June 6, and runs through Sunday, July 28.
The exhibition presents a range of genres and methods of production, with new and recent works by Ella Gant, Robert Knight, Katharine Kuharic, Bruce Muirhead, Rebecca Murtaugh and Bill Salzillo. Interpretive texts written by guest contributors, current and former students of the artists, accompany the artworks and offer a glimpse into the often enduring relationships that develop between faculty and their students through the creation and critique of the visual arts.
The opening reception will take place on Thursday, June 6, from 4-6 p.m. The event is free and open to the public.