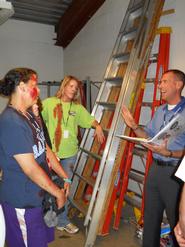 With an increasing number of violent incidents occurring on campuses, emergency response training has never been more important. The 74 school shootings in the year and a half since the tragedy at Sandy Hook Elementary demonstrate how the ability to respond to a significant crisis quickly and effectively is essential.
Hamilton College will hold its fifth yearly major campus-wide test of its emergency preparedness plan on Wednesday, June 18, in its continuing focus on developing and maintaining the readiness of its emergency response team. The Hamilton exercises are also among the most extensive operations in fulfillment of the yearly Clery Act mandate that every college conduct a test of its crisis systems.
While some colleges hold tabletop briefings or have meetings to discuss their plans, Hamilton takes a much bolder approach. More than 150 members of the local police, county sheriff, fire department, medical personnel, the NY State Police Emergency Response Team and the campus community will be put through an intense, realistic drill meant to test teamwork and response times. Responders are unaware of the scenario ahead of time.
Although the exact nature of the exercise has not been revealed, it will include hostages, gunfire, injuries and air support. The college will engage approximately 40 community members in roles as victims, witnesses and hostages. Victims will have makeup applied to generate lifelike injuries to allow medical responders to practice diagnosing potential problems.
Response teams will include:
• New York State Police
• Central Oneida County Volunteer Ambulance Corps (COCVAC)
• Oneida County Sheriff's Department
• Clinton Fire Department
• Mercy Flight Central
• Hamilton College
Representatives from the following organizations will observe the exercise and evaluate the emergency response teams' performance:
• New York State Police
• Oneida County Sheriff's Department
"Hamilton considers this mock drill to be an important and essential part of the college's emergency preparedness efforts," said Director of Campus Safety Francis Manfredo. "Although the Clery Act mandates some kind of yearly emergency drill, the college administration feels very strongly that it is important to be well prepared for any act of violence on campus." Members of the Hamilton Emergency Response Team will test their proficiency in handling an emergency utilizing the Incident Command System (ICS).