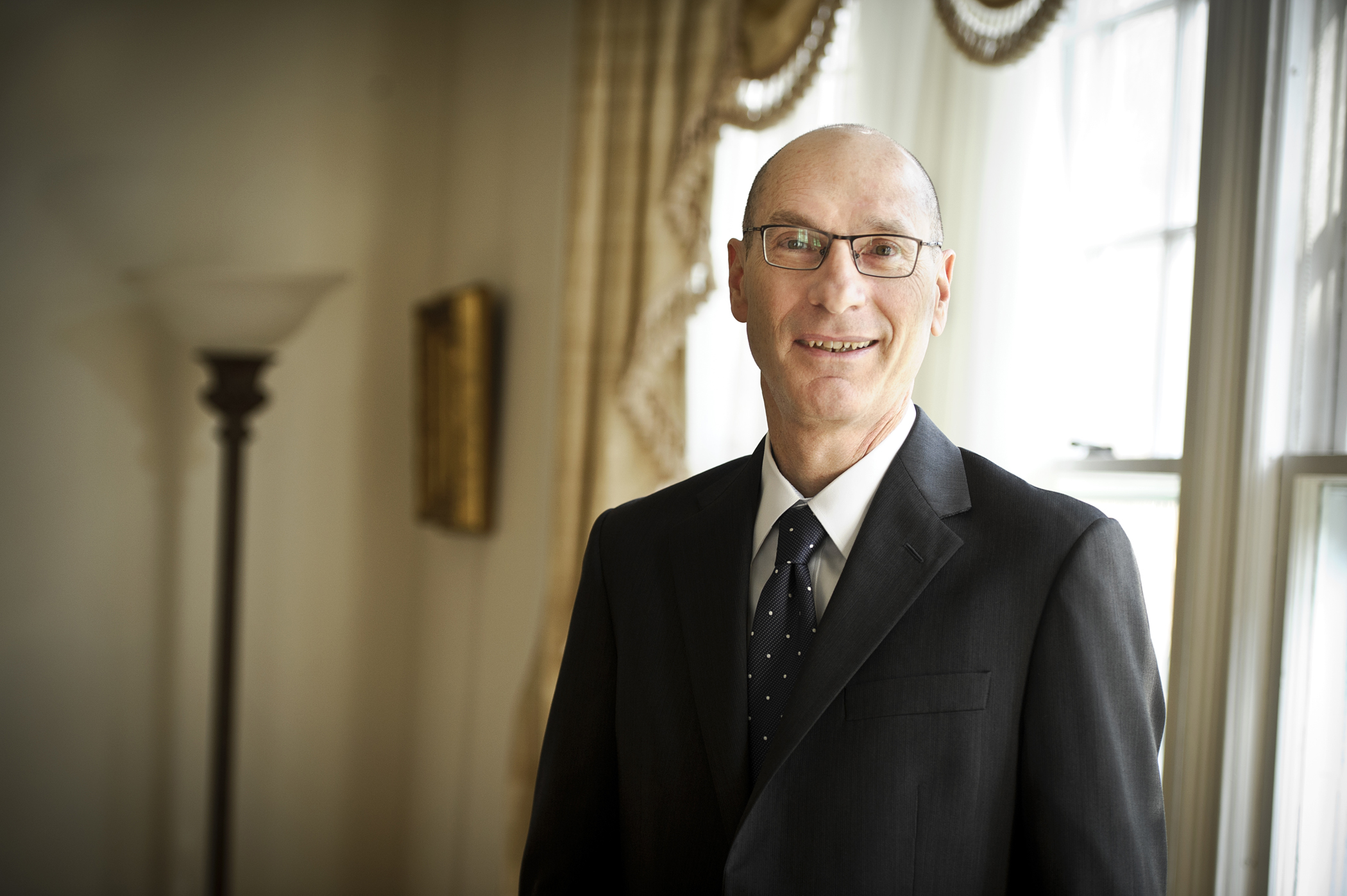 The Hamilton College Board of Trustees has elected unanimously David Wippman, the William S. Pattee Professor of Law and dean of the University of Minnesota Law School, to be the College's 20th president. The appointment is effective July 1, 2016.
Wippman is a recognized authority in international law. He will succeed Joan Hinde Stewart following her retirement on June 30, 2016, after 13 years as president.

David Wippman talks with Phoebe Greenwald '16 and Caleb Williamson '17, student members of the Presidential Search Committee, about his background and what attracted him to Hamilton College.

Steve Sadove '73 and Bob Delaney '79, co-chairs of the Presidential Search Committee, discuss the search process and what makes David Wippman a great fit for Hamilton.

David Wippman is introduced to students, faculty and staff on Dec. 11 in the College Chapel by Stephen I. Sadove, chairman of the Board of Trustees.
Hamilton's next president was introduced to students, faculty and staff on Friday afternoon (Dec. 11) in the College Chapel by Stephen I. Sadove, chairman of the Board of Trustees.
"David Wippman emerged as the top finalist from a strong and diverse pool of well-qualified candidates because of his intelligence, warmth and enthusiasm for the liberal arts," Sadove said. "He personifies many of the objectives of a Hamilton education: He is a strong and collaborative leader, an effective communicator and a person committed to active citizenship. Hamilton is in a strong and stable position with a growing reputation. It will be difficult to follow Joan Stewart, but we believe we've found the perfect person to do so."
Added Charter Trustee Robert Delaney, who co-chaired the Search Committee with Sadove, "As dean at the University of Minnesota Law School, David led the community in developing a shared strategic vision, revamped the curriculum, raised the profile of the school, improved the diversity and academic credentials of the student body, quadrupled financial aid, and secured new revenues to support the work of students and faculty. He brings a wealth of directly relevant experience to Hamilton."
"I am honored to be asked to lead one of the oldest and finest liberal arts colleges in the United States," Wippman said. "Hamilton has a talented faculty, willing and able to innovate; students who are bright, motivated and politically aware; and active, engaged alumni, eager to make Hamilton an even stronger college. I look forward to working with members of the Hamilton family to build on the College's commitments to teaching, research, diversity and public service."
A Minnesota native, Wippman, 60, received a bachelor's degree, summa cum laude, from Princeton University in 1976, a master's degree through a fellowship in the Graduate Program in English Literature at Yale University in 1978, and his law degree from Yale Law School in 1982. While at Yale, he was editor-in-chief of the Yale Law Journal.
Throughout his career as an academic and an attorney, Wippman has worked to foster understanding to address conflicts around the world.
Prior to becoming dean at Minnesota, Wippman was professor and associate dean at Cornell Law School and served as vice provost for international relations at Cornell University where he oversaw efforts to enhance the university's international programs. In 1998-99, he took a leave from Cornell to serve as a director in the National Security Council's Office of Multilateral and Humanitarian Affairs. Working in that role, he assisted in the formulation of U.S. policy on war crimes, the International Criminal Court, economic sanctions and United Nations political issues.
The next Hamilton president clerked for the Honorable Wilfred Feinberg, chief judge of the U.S. Court of Appeals for the Second Circuit. He then practiced law for nine years in Washington, D.C., with a focus on international arbitration, political consulting on public and private international law issues, and representation of developing countries in litigation. Wippman has been a visiting scholar at the University of Ulster in Northern Ireland and has written or co-authored four books on international law, including International Law: Norms, Actors, Process: A Problem-Oriented Approach 4th ed. and Can Might Make Rights?: Building the Rule of Law after Military Interventions. In addition, he has published articles in The American Journal of International Law and The International Journal of Human Rights, among other periodicals.
Wippman has taught public international law, international criminal law, international human rights and ethnic conflict, and is often called on to provide expert commentary. Throughout his career he has traveled to areas experiencing conflict, including Nicaragua, the Philippines, Liberia, Kosovo, Sierra Leone and, as part of a presidential mission with Elie Wiesel, to refugee camps in Albania and Macedonia.

Law School Dean
During his time as dean of the University of Minnesota Law School, Wippman led the development of a strategic plan that was adopted unanimously by the faculty, improved student and faculty diversity, launched a successful fundraising campaign and led the law school's transition to a new financial model.
University of Minnesota President Eric W. Kaler said Wippman "is exceptionally well-qualified to be a college president. His ability to think and communicate clearly will serve him well, as will his terrific sense of humor," said Kaler. "We are very grateful for his excellent service as dean and wish him all the best in New York."
Added Senior Vice President for Academic Affairs and Provost Karen Hanson: "I congratulate Hamilton College on its choice of its next president, though I am very sorry that we at the University of Minnesota are losing David Wippman. David has a firm commitment to the highest standards of teaching and scholarship and a deep understanding of the aims of liberal education. He is a wise, quietly witty man, and I am confident he will be a superb president, warmly embraced by the Hamilton College community and effective as its leader. We will miss him, but, again, his appointment as president is great news for Hamilton College."
Former Vice President of the United States Walter Mondale is a graduate of the University of Minnesota Law School who has gotten to know Wippman well.
"As an expert in international law," Mondale said, "David Wippman is an inspired choice to lead a college named for Alexander Hamilton and that counts among its distinguished alumni the 1912 Nobel Peace Prize winner Elihu Root, Civil Rights leader Bob Moses and former U.S. ambassadors Sol Linowitz, Bill Luers and Ned Walker. I commend Hamilton College and its trustees for choosing as its next leader someone who personifies the democratic values that Hamilton seeks to instill in its graduates."

Reactions from the Search Committee
The 18-member Search Committee was formed in February 2015 and chaired by trustees Steve Sadove and Bob Delaney. It included eight other trustees, three members of the faculty, two students and three administrators, and was assisted by the search firm Isaacson, Miller.
"From a faculty member's perspective, David's academic credentials are certainly impressive," said Professor of Economics Stephen Wu. "Not only is he a prolific author, but his publications also appear in prestigious outlets, and his work is highly cited by other researchers in the fields of international law and human rights.
"But what struck me most about him," Wu continued, "was the thoughtfulness of his responses to issues that our institution cares so much about: teaching students to think critically, promoting and supporting scholarly pursuits of the faculty, and creating an inclusive and diverse community where all members may thrive."
Added Professor of History Shoshana Keller, who also served on the Search Committee, "I very much look forward to working with David. He has admirable experience with complex international issues and is interested in sharing his expertise with students in regular seminars. I believe that the faculty will find him accessible and open to wide-ranging conversations about the future of the College."
Associate Professor of Philosophy Katheryn Doran called Wippman, "dynamic, funny, whip smart, and a superb scholar. … [W]hat sets Wippman apart," Doran added, "is his keen capacity for thoughtful, engaged conversation, an invaluable asset to the next leader of our diverse, lively community."
Trustee Lea Haber Kuck, also an attorney, said "David impressed us not only with his intelligence and thoughtfulness, but also with the rare ability to truly listen to all constituencies of the College." Fellow Trustee Linda Johnson cited Wippman for his "rigorous scholarship, intellectual curiosity and creative leadership…. I was inspired by his quick wit and track record of success at diverse and impressive institutions," Johnson said.
Two Hamilton students also participated actively in the selection of Hamilton's new president. Senior Phoebe Greenwald, of Seattle, Wash., said she was struck by Wippman's "well-rounded intelligence" and "the way he engages people. He is a masterful writer and speaker, but he also possesses an incredible talent for listening."
And Caleb Williamson, a junior from Rosedale, N.Y., said "I am thrilled to have David Wippman serve as our 20th president. His personality, his humor and his eagerness to engage with the student body at Hamilton excite me the most. I am fully confident that the student body will be highly pleased with Mr. Wippman as our next president."

About Hamilton
Wippman will assume the Hamilton presidency four years after the College celebrated the bicentennial of its founding in 1812 and in the wake of record years in student recruitment and fundraising. Recent classes admitted to Hamilton have set new standards for applications, selectivity, diversity and quality, as measured by standardized test scores and rank in class. Alumni, parents and friends of the College have contributed nearly $300 million in the past dozen years. Through careful investment and stewardship, Hamilton's endowment is approaching $1 billion in value.
The College's top priority has been remaining accessible to the most talented and deserving students. In 2010, following the Great Recession, the Board of Trustees adopted a plan to admit students without considering an applicant's financial circumstances (i.e., need-blind admission), while maintaining the College's longstanding practice of meeting the full demonstrated need of every student. Fewer than 50 U.S colleges and universities practice need-blind admission and meet the full demonstrated need of the students they accept.
Hamilton currently budgets more than $36 million for student financial aid, and approximately half of the student body receives some form of need-based aid. The average financial aid award in 2014-15 was $41,300, including $37,500 in scholarship. For students who graduate from Hamilton with loans, their average indebtedness is between $16,500 and $20,000, far below the national average of $28,950 as calculated by the Institute for College Access and Success.
Hamilton has also invested significantly in its physical plant in the past decade, spending nearly $250 million on facilities for science, social science, the arts, wellness and recreation, and student activities. The College opened a new residence hall, Morris House, in August and dedicated the $46.8 million Kevin and Karen Kennedy Center for Theatre and the Studio Arts in 2014. The Ruth and Elmer Wellin Museum of Art opened in 2012.
The College continues to focus on diversifying its student body and staff. In 2005, 14% of the Hamilton student body was comprised of domestic students of color; a decade later that figure is 23%. An additional 6% of students come from countries other than the United States. New programs have been introduced in the past few years for the College's increasingly diverse student body, including the opening of the Days-Massolo Center, a venue in which students of all backgrounds are encouraged to discuss issues and resolve differences.
Hamilton is a charter member of the New England Small College Athletic Conference. Founded in 1971, NESCAC describes itself as "a group of 11 highly selective liberal arts colleges and universities that share a similar philosophy for intercollegiate athletics. The conference was created out of a concern for the direction of intercollegiate athletic programs, and remains committed to keeping a proper perspective on the role of sport in higher education." In addition to Hamilton, members include: Amherst College, Bates College, Bowdoin College, Colby College, Connecticut College, Middlebury College, Trinity College, Tufts University, Wesleyan University and Williams College.
Carolyn A. Martin, the president of Amherst College, worked with Wippman when the two were at Cornell University. "In David Wippman," Martin said, "Hamilton has selected a president with wide-ranging intellectual interests, broad international experience, proven administrative talent, and unimpeachable integrity. David is also one of the wittiest people I know. Working closely with him at Cornell was a pleasure and a privilege. I am delighted that we will have him as a colleague in the NESCAC presidents' group."
Hamilton was originally founded as the Hamilton-Oneida Academy by Rev. Samuel Kirkland, missionary to the Oneida Indians. In 1793, Kirkland presented his plan of education to President George Washington, who "expressed approbation," and to Secretary of the Treasury Alexander Hamilton, who lent his name and consented to be a trustee. The academy was rechartered in 1812 as Hamilton College and is the third oldest college in New York State.
Today, Hamilton occupies a 1,350-acre hilltop campus overlooking the New England-style village of Clinton, New York, in close proximity to the Adirondack Park. The College's open curriculum gives students the freedom to shape their own liberal arts education within a research- and writing-intensive framework, and with the guidance of faculty advisors who help students plan an individualized course of study that reflects their unique interests and skills. Hamilton enrolls 1,850 students from 45 states and 47 countries.