Hamilton College Orchestra Performs Brainstorm! on March 9
---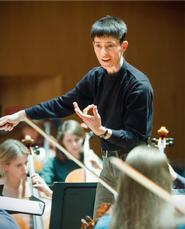 The Hamilton College Orchestra, conducted by Heather Buchman, presents the annual Brainstorm! concert on Sunday, March 9, at 3 p.m., in Wellin Hall, Schambach Center for Music and the Performing Arts.
This year's theme, Resonances Over Time: Transitions & Reflections in Musical Style, compares Haydn's Symphony No. 6 in D Major, Matin and Respighi's Ancient Airs and Dances Suite No. 2. The performance will include remarks by Buchman comparing the two musical selections with demonstrations performed by the Hamilton College Orchestra.
Heather Buchman is the music director of the Hamilton College Orchestra and teaches 20th century music history and orchestration. She is also the educational conductor for Symphoria. In 2008 Buchman was among the first recipients of a Women Conductors Grant from the League of American Orchestras to further her professional training in St. Petersburg, Russia.
This concert is free and open to the public. For more information call the box office at 859-4331 or visit www.hamiltonpa.org.