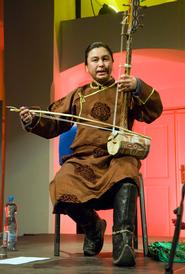 Hamilton College Performing Arts presents Alash Ensemble of Tuva on Saturday, Sept. 26, at 7:30 p.m., in Wellin Hall, Schambach Center for Music and the Performing Arts.
The award-winning Alash Ensemble of Tuva will bring the beautiful and exotic sounds of their inner Asian homeland to Hamilton College with a concert of throat singing, a technique which allows vocalists to sing multiple pitches at one time, accompanied by a variety of traditional instruments. The three musicians who make up Alash -- Bady-Dorzhu Ondar, Ayan-ool Sam, and Ayan Shirizhik -- have won numerous international awards in Tuvan throat singing. Sean Quirk, an American who studied music in Tuva and now makes Tuva his home, provides commentary in English to bridge the cultural and musical gap for the American audience.
Alash has collaborated with such diverse musical groups as Bela Fleck and the Flecktones, beatboxer Shodekeh, and American classical musicians. With their "new old" Tuvan music, Alash stays true to the cultural traditions of their musical heritage while blending new influences to create a captivating and utterly unique musical experience.
Tickets are $20 for adults, $15 for senior citizens and $5 for students. All seating is general admission. For more information, call the box office at (315) 859-4331 or visit www.hamiltonpa.org.