Hamilton's Emerson Gallery Presents LOOK UP
---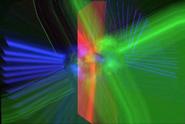 LOOK UP, four concurrent exhibitions featuring works by Hamilton College alumni, faculty and students will open in the Emerson Gallery at Hamilton on Monday, Jan. 18.

• The first exhibition, From 60,000 Miles Away: The Glass Galaxies of Josh Simpson presents works of glass by noted artist and Hamilton alumnus Josh Simpson '72.
• Music From Space: Samuel Pellman and Miranda Raimondi's Selected Nebulae features electroacoustic vingettes created by Professor of Music Pellman that draw upon visual space observatories and are paired with animation video taped by alumna video artist Miranda Raimondi '08.
• The third exhibition, Visions of Earth-Sky: MesoAmerica and the Cosmos, draws from the Emerson Gallery collections and examines the role of the cosmos in pre-Columbian civilizations in the Mesoamerican region. Ana Maria Diaz '10 researched and organized this exhibition.
• Teaching the Stars: Prints and Photographs from the Christian H.F. Peters Papers presents a series of photographs from Peters' own observations as a 19th century Hamilton astronomy professor as well as his teaching materials.

An opening reception for the four exhibitions will be held on Tuesday, Feb. 9, at 5:30 p.m. The show will run until April 18. The exhibitions are free and open to the public.

Special gallery events:

ARTIST'S TALK - Josh Simpson '72
Tuesday, Feb. 9 - 4:15 p.m.
Kennedy Auditorium - Science Center

ARTIST'S TALK – Sam Pellman
Leonard C. Ferguson Professor of Music
Thursday, Feb. 18
noon
Emerson Gallery

GALLERY TALK - Ana Maria Diaz '10
Wednesday, Feb. 24
noon
Emerson Gallery

FILM SCREENINGS
Powers of Ten

This 1977 film by Ray and Charles Eames explores the relative size of things from the microscopic to the cosmic. Powers of Ten begins with an aerial view of a man in a Chicago park and travels to the outer limits of the universe directly above him and back down into the microscopic world contained in his hand.
Screenings in February:
Every Tuesday and Wednesday
12:15 p.m. at the Emerson Gallery
Running time: 9 minutes

From 60,000 Miles Away consists of 44 early and recent works created by contemporary glass artist Josh Simpson. Simpson is largely a self-taught artist who is inspired by the world around him and the mysteries of the universe. He has earned international acclaim for the beauty and technical merits of his work. Like tidal pools or the windows of spacecraft, Simpson's works offer views in new worlds with boundaries that are defined only by one's imagination. This exhibition was organized by Katerina Adair '10, Katherine Anderson '11, Kenley Stark '11 and Associate Director and Curator Susanna White.

Music From Space: Samuel Pellman and Miranda Raimondi's Selected Nebulae are a tribute to early efforts of man's ventures into space and draw upon visual imagery captured by space observatories such as the Hubble telescope. Collaborating on this presentation, Samuel Pellman created a series of electroacoustic vignettes, which were animated by video artist Miranda Raimondi '08. These compositions convey a sense of what has been explored thus far and hint at further discoveries. In addition, Ares Valli, a video collaboration by Samuel Pellman and Lauren Koss '00, will be on view. Music from Space was organized by Consulting Director Ian Berry and White.

Visions of Earth-Sky: MesoAmerica and the Cosmos draws from the collections of the Emerson Gallery to examine the role of astrology in pre-Columbian ceramics from the Mesoamerican region. Object design and imagery offer a glimpse into these cultures' vision of Earth-Sky as a unified cosmos. Incorporated their interpretations of the heavens into their artistry, the Maya and the Aztec developed complex calendars based on the movements of the sun, the stars, and the planets. Visions of Earth-Sky: Mesoamerica and the Cosmos was organized by Ana Maria Diaz '10 and White.

In 1858 Christian H. F. Peters came to Hamilton College to teach astronomy and head the Litchfield Observatory. The German-born astronomer was already one of the world's foremost solar physicists and had served as an artillery officer for Guiseppe Garibaldi in Sicily. From the Litchfield Observatory Peters determined the longitudes of several cities within New York State, earned recognition for discovering asteroids and continued his work on solar events. Teaching the Stars: Prints and Photographs offers the first public viewing of some of the stunning photographs depicting celestial phenomena that Peters used for teaching and personal study along with his teaching materials. This exhibition was organized by Berry and White.