Girl Rising to be Screened at Hamilton
---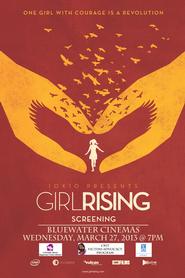 Girl Rising, a documentary film made by the 10x10 Campaign, a global initiative to educate and empower girls, will be screened on Monday, Oct. 21, at 4:15 p.m., in the Red Pit, KJ. The film will be followed by a panel discussion. The screening is free, open to the public and sponsored by the Days-Massolo Center and Muslim Student Association.
Girl Rising is an innovative film from Academy Award-nominated director Richard E. Robbins that spotlights the stories of nine unforgettable girls born into unforgiving circumstances. Journeying around the globe to witness the strength of the human spirit, Girl Rising demonstrates the power of education to change a girl – and the world.
Each girl's story is written by a renowned writer from her native country, including Marie Arana, Edwidge Danticat and Mona Eltahawy. These stories are narrated by celebrated actresses: Cate Blanchett, Anne Hathaway and Meryl Streep. Girl Rising also features Freida Pinto and Liam Neeson, as well as original music from Academy Award-winner Rachel Portman and Lorne Balfe. The documentary previewed at the 2013 Sundance Film Festival.
The 10x10 Campaign is an international movement that aims to transform the global community by removing barriers to girls' education – such as early and forced marriage, domestic slavery, sex trafficking, gender violence and discrimination, lack of access to healthcare and school fees. The campaign was founded by award-winning journalists at The Documentary Group and Vulcan Productions, along with strategic partner, Intel Corporation. Girl Rising is the heart of the 10x10 Campaign.