Curling Team Competes in Semi-Finals in Local Tournament
---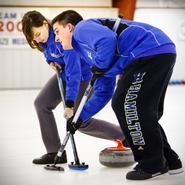 Hamilton co-hosted the second annual Utica Curling Club Collegiate Bonspiel on Feb. 24-25 at the Utica Curling Club. Thirteen teams from Boston University, Bowling Green, Colgate, Harvard, MIT, RIT, RPI, SUNY Binghamton, UMass, and U Penn competed along with three teams from Hamilton.
The three Hamilton teams were: Christopher Boisvert '12 (vice), Amelia Mattern '12 (second), Lindsay Shankman '12 (skip) and Talia Steiman '12 (lead); Bethany Campbell '14 (second), Meghan Doherty '14 (lead), Tara Huggins '14 (skip) and Emma Taylor '13 (vice); and Lisa Labate '14 (second), Chris Lepre '15 (vice), Olivia Valcarce '15 (lead) and Kevin Welsh '15 (skip).
In addition, Kayla Winters '13, Jake Davidson '15, and Sandy Rao '15 competed on teams with students from Bowling Green, RPI and SUNY Binghamton, respectively.
Each team competed in at least three matches over the course of the tournament and Boisvert, Mattern, Shankman and Steiman also went on to compete in the event's semi-finals.
The two-day competition was held at The Utica Curling Club, located 10 minutes from campus, where Hamilton students learn to curl and practice each Sunday under the direction of instructors MJ Walsh and Roger Rowlett.