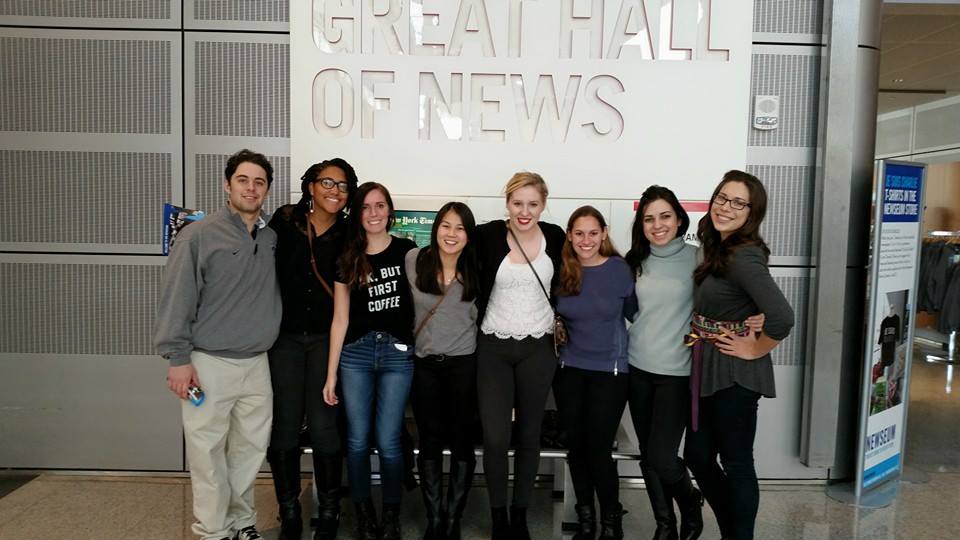 Students participating in Hamilton's Program in Washington, D.C. recently visited the Newseum. The Newseum, featuring many interactive exhibits, is the museum dedicated to the history of news. Its seven-floors are made up of thematically organized theaters and galleries.
The group began their tour on the bottom floor which is highlighted by the Berlin Wall Gallery and the Death Tower. The Death Tower is the only guard tower from the Berlin Wall in the United States. The curator for this exhibition placed the tower in the center of an atrium-like room with links from the Berlin Wall in front of the tower. Even in a museum setting, it felt massive and ominous.
Next we visited the gallery for the September 11 attacks, reading letters from family members and looking at photographs of the people on the flights and in the buildings. Knowing that Hamilton alumni lost their lives in these attacks made it even more powerful and the air felt heavy as we took in the display. The gallery also contained parts of the planes and structural pieces of the buildings. As we read through the articles and signs in the gallery we recalled our own memories from September 11, 2001, and discussed the impact the attacks had on policies associated with terrorism, national security, and travel.
Other galleries in the Newseum focused on First Amendment issues, world press freedom and mobsters. Having taken numerous government and/or public policy courses at Hamilton, the students enjoyed debating some of the issues featured. We concluded our visit by walking through the gallery of Pulitzer Prize Photographs documenting so many transformative events in the world. We left with a strong sense of appreciation for journalists, our freedoms guaranteed by the Constitution, and the impact world and national events have on government policies.