Hamilton Delegates Take Part in EuroSim Conference
---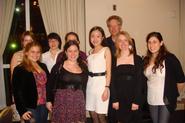 Eight student delegates from Hamilton attended the European Union Simulation Conference (EuroSim) in Philadelphia from March 31-April 3. Alan Cafruny, the Henry Platt Bristol Professor of International Affairs and faculty advisor of Hamilton's Model European Union, also attended the conference which included 166 undergraduate and graduate students from Europe and North America.

Student participants were Hanna Kahrmann-Zadak '12, Stephanie Shapiro '12, Elizabeth Scholz '13, Marghuerita Taylor Scott '13, Evanie Peters '14, Alice Rose Henry '14, Jessica Li '14 and Xinyang Li '14.
Hamilton has participated for 22 years in EuroSim, which is held alternately in Europe and North America every other year. This year's theme was cohesion policy, a vehicle aimed at alleviating the polarization of wealth in European Union countries. Hamilton delegates represented members of European Parliament, heads of government, cabinet minister, foreign minister and council secretary.
Before attending the conference participants studied cohesion policy comprehensively. They discussed various aspects of the cohesion policy, including its objectives and missions, instruments and eligibility, principles of assistance, and managing and controlling. These topics cover important disagreements between left wing and right wing parties of the European Union.
Students representing left wing party members advocated policies favoring a more equal distribution of wealth, gender equality, cultural diversity, environmental conservation, and transparent politics. They argued that the Cohesion Policy council proposal should be in line with Europe 2020 strategy, promoting European integration. However, students representing right wing party members were more skeptical about the desirability of deeper European integration. They argued against policies designed to promote environmental conservation and opposed redistributive policies including increases in welfare spending.
In part because the right wing parties advocating nationalism have been gaining ground in national and European elections, European integration is confronting serious challenges. The topics discussed at this conference will continue to be debated in the European Union. Hamilton delegates gained valuable knowledge and experience not only about how European Union institutions function, but also about the most important political and economic issues in Europe.