Hamilton EMTs Join Forces With Fort Drum Soldiers in Training Class
---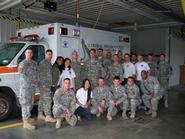 The war in Iraq became more personal for some members of the Hamilton community when they spent 12 days teaching an emergency medical technician (EMT) course to 25 soldiers from the 10th Mountain Division at Fort Drum. The soldiers, who are being deployed to Iraq in October and were anxious to be as prepared as possible to be of assistance, requested the training. The EMT course was organized by Faxton-St. Luke's EMS Program Agency and Central Oneida County Volunteer Ambulance Corps (COCVAC).

Five Hamilton students and Student Health Services Nurse Diann Lynch were among the instructors. The Hamilton EMTs who helped with the training were senior Sujitha Amalanayagam and juniors Andrew Branting, Kathy Lee, Caitlyn Williams and Keith Willner. All are members of COCVAC, and Lynch is on its board of directors.

The soldiers of 1st Platoon, Charlie Company, 4-31 Infantry Battalion, 2nd Brigade Combat Team, 10th Mountain Division, have passed the skills test necessary for EMT certification and will take a written test on Sept. 17 at Fort Drum.

Hamilton's involvement in this program was part of a huge outpouring of local community support. The Westmoreland Fire Department housed the soldiers, all meals were donated by various organizations and restaurants and New York State waived the tuition. All instructors volunteered their time to teach.

Hamilton EMT Andrew Branting '11 said "I had originally volunteered to just go down for one day, but after meeting the soldiers and seeing their genuine desire to learn and become EMTs, I had to go back." EMT Sujitha Amalanayagam '11 added, "I really wanted to help because the troops are sacrificing their lives for our protection. Five hours of my time is nothing compared to the years they serve in the army."

Course topics include allergies, behavioral emergencies, bleeding and shock, ob/gyn pediatric emergencies, trauma patient assessment and injuries to bones and muscles, among many others. The breadth of training is impressive and provided the EMTs with skills to aid members of the local community as well as other soldiers.

Hamilton EMT Caitlyn Williams '11 observed, "The soldiers have two weeks, as compared to a typical five- or six- month course, to prepare for their state exam for certification. They worked long days and crammed so much information into such a short time, that the teaching of these skills in an efficient and easy to understand manner was critical to their learning experience.

"They were a special group who deserved the very best training and care, and I felt a deep pull to do everything that I possibly could to help out. The time wasn't an issue, because over the past two years as an EMT, I have come to learn that although it is a time commitment, nothing beats the feeling of helping another person. I can't imagine not being an EMT with the skills that I have been taught and the friends that I have made along the way, and I just wanted these soldiers to be able to have the same sort of experience that I have."

Branting noted that "all of them appreciated the value of the skills they are learning and see a possibility of joining volunteer agencies in their hometowns later in life."

Willner, too, said that when he learned of the opportunity to teach the class he couldn't pass it up. After he became an EMT, he took a class that allowed him to become a certified lab instructor. "I helped out with the college EMT class in the spring and found that I really enjoyed passing on my knowledge."

Willner said that when the Fort Drum soldiers went with him on calls and he "saw them use what they had learned on actual patients, it was one of the best feelings I've had in a while. It's really the least I can do, since over in Iraq, it's not so much a question of if they will use the skills they learn, but when."

Lynch summed up the value of the experience for the instructors. "I can't begin to say what it meant to be a part of this endeavor. Working with the soldiers was a wonderful experience......they were so appreciative of being able to take this class. It certainly makes the war in Iraq much more personal for me.

"The members of COCVAC and our five EMTs will continue to correspond with this group of soldiers and hopefully they will be visiting the area when they return," she predicted.