Hamilton Endowment Rebounding Better Than National Average
---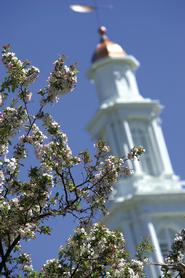 In a national study of endowment performance, Hamilton College investments outperformed the average rate of return for other U.S. colleges and universities.
The annual study conducted jointly by the National Association of College and University Business Officers (NACUBO) and Commonfund showed the 823 college endowments studied returned an average of 19.2 percent (net of fees paid to managers) for the 2011 fiscal year (July 1, 2010 -- June 30, 2011); Hamilton's comparable return was 21.56 percent.
"Hamilton benefits from the acumen of alumni money managers who volunteer their expertise to the college," said Vice President for Administration and Finance Karen Leach. She said an alumni committee comprised of investment professionals typically meets six times each year to review performance and set policy for investing the college's endowment. Hamilton's Investment Office then implements the policy.
"With the assistance of our alumni volunteers and the Investment Office, Hamilton continues to be a good steward of the resources entrusted to it," Leach said. "These resources are critical to keeping a Hamilton education affordable for students from low and middle income families."
Hamilton's endowment performance also outperformed the average five-year and 10-year net returns for the group, according to the NACUBO-Commonfund study. The college's annualized five-year rate of return was 4.83 percent compared to 4.7 percent for the group average, and for 10 years, Hamilton's 7.26 percent compared to 5.6 percent for the group. Hamilton's performance trailed the group's three-year average returns (2.65 percent at Hamilton cf. 3.1 percent for the group).
Funds from Hamilton's endowment are providing $28.9 million, or 20.2 percent, of the college's $143 million operating budget in 2011-12. The largest share of that income is earmarked for student scholarship aid.
The market value for Hamilton's endowment on June 30, 2011, was $657,528,915, according to audited figures. When the college's $63,758,218 in planned gifts are included, Hamilton's endowment and similar funds totaled $721,287,133 on June 30.