Hamilton Fundraising for Hurricane Sandy Relief
---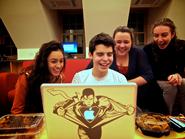 Hamilton College will host a fundraiser through next week for hurricane relief in Union Beach, N.J. This relief effort is spearheaded by Sandhya Rao'15, who lives near Union Beach. The small, beach-front town was devastated by Hurricane Sandy.
Rao is working with COOP, the Philanthropy Committee and the Cultural Affairs Committee to organize the fundraiser. Tables will best up in Kirner-Johnson and the Taylor Science Center from Monday, Nov. 12 to Friday, Nov. 16, 11 a.m. to 1 p.m., to accept donations. All money will go to the Union Beach Disaster Relief Fund, which will be used to buy blankets, food, cleaning supplies and whatever is necessary to rebuild the town.
Much of the state of New Jersey is still reeling from the effects of Hurricane Sandy. In Union Beach alone 100 homes were destroyed, of which 30 were completely washed away. Residents are still without power or heat, even as a winter begins to set in. The only school in the area was flooded, so students have not had classes for nearly two weeks.