Hamilton hires head softball coach
---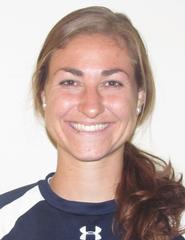 Patricia Cipicchio, an assistant softball coach at Williams College, has been named the head softball coach at Hamilton College.

Cipicchio helped lead Williams to 16 wins in 2013. The Ephs finished 7-5 in the NESCAC West Division and tied for second place in the division standings. She was an assistant coach at Smith College in 2012.

"I am incredibly thankful to athletic director Jon Hind '80 and the search committee for the opportunity to lead the Hamilton College softball program, and to be a part of an athletic department that truly values its athletes," Cipicchio said. "This team is capable of big things, and I am eager to get to work.

"I am lucky to inherit an exceedingly capable assistant coach in Liz Slupinski, and am grateful to her for her dedication to the program while the search was underway."

Cipicchio was a four-year starter at second base and shortstop for Trinity College from 2007 to 2010. She was a team captain and made the NESCAC spring all-academic team her senior year. The Bantams went 22-11 overall and finished runners-up in the 2007 NESCAC championship, and advanced to the postseason again the following year with an 8-4 record in the NESCAC East Division. Cipicchio started all but one game during her career at Trinity and ended up with 97 hits, including 10 home runs.

"We are thrilled to have Coach Cipicchio join our Hamilton team," Hind said. "She brings great energy, passion and knowledge to our softball program. With experiences as both an outstanding scholar-athlete and assistant coach in the NESCAC, Trish understands and is committed to the student-athlete balance necessary for success at Hamilton."

Cipicchio received her bachelor's degree from Trinity in neuroscience and music, and earned her master's degree from Smith in 2013. She hails from Southmont, N.C., and was a three-sport athlete at East Mecklenburg High School in Charlotte.