Hamilton Hosts Community-based Research Program
---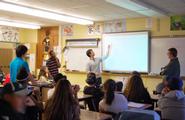 Hamilton hosted a Community-based Research (CBR) program on Friday, Nov. 6, arranged by New York Campus Compact, at which four CBR models currently in use as part of Hamilton courses were presented. Faculty members from Colgate and SUNY/IT as well Hamilton faculty and two Levitt Vista workers attended this roundtable which included discussions of best practices for student learning and community outcomes.

Hamilton models that were presented included:

• Associate Professor of Computer Science Mark Bailey's Secrets, Lies & Digital Threats that includes a pre- and post-presentation survey of 9th graders in local schools who receive a lesson on computer safety from a team of his college students
• Associate Professor of Government Gary Wyckoff's Senior Seminar in Public Policy in which students take on changing projects solicited by letter yearly in the preceding summer
• Professor of Women's Studies Margaret Gentry's Women and Aging course in which students have worked with community agencies to interview older women caregivers as part of an ongoing research project for The Women's Fund
• Levitt Center Associate Director for Community Research Judy Owens-Manley's seminar in program evaluation focused on long-term relationships with community partners and most recently on the Family Drug Treatment Court and on a five-year program with the HOPE VI Project

Community-based research explores an issue or answers a question that matters to the community. Undergraduate students learn about a research process, but they also learn in a dynamic process, engaging with individuals and organizations in real-time situations. On college campuses there are many models for engagement, from one-semester projects to ongoing partnerships.

Campus Compact is a nonprofit coalition of more than 1,100 college and university presidents, representing six million students who are committed to fulfilling the civic purposes of higher education.